Are you interested in learning bookbinding, and wondering how you can get started binding your own books? Believe it or not, most of what I learned about making books by hand is self taught! Here are some of the most helpful do-it-yourself bookbinding books I've personally used, in order of easy to difficult with links to buy them on Amazon. I've also written a helpful post called Where to Buy Bookbinding Supplies Online that you might like too!: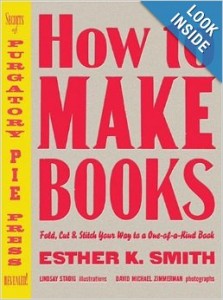 How to Make Books: Fold, Cut & Stitch Your Way to a One-of-a-Kind Book
This is a great book for beginners – lots of great photos, and Esther K. Smith has a great range of projects, from super simple no-sew 8 page books to more complex binding styles. I love the raw book board cover, too!

Hand Bookbinding: A Manual of Instruction
This is an older book about bookbinding, and it doesn't have photos, but it has lots of neat, detailed illustrations. The author Aldren A. Watson also does a little bit on the history of bookbinding. Good resource for all-around bookbinding.

Bookbinding Techniques and Projects (Decorative Techniques)
This bookbinding guide written by Josep Cambras is unusual in that it was translated from Spanish! Lots of photos, but for me the best part of the book is that the author has a project on making your own Moleskine-style travel journal.

Japanese Bookbinding: Instructions From A Master Craftsman
This is a dense and authoritative guide to Japanese bookbinding (the style with the stitches going down the side of the book) by Kojiro Ikegami – you learn the history of this ancient binding style and there are plenty of guides to sewing patterns.
Keith Smith's Non Adhesive Binding Vol. 1 is a must-have if you're interested in coptic stitch binding – it's dense and contains lots of text and many, many bookbinding projects that don't require any glue to make. It's definitely more technical than the other books, and with it's biblical proportions (352 pages!) it's more of a good reference book if you're already into bookbinding and want to learn some new sewing techniques.
Do you have any recommendations on good how-to books? Which bookbinding book is your favorite? Post a comment!

this post contains affiliate links