So I'm definitely on some kind of extreme bookbinding kick right now, and last night I made covers for 11 new yuzen (the Japanese silkscreened paper I like so much) coptic stitch journals – meaning I covered 22 boards!
I remember a  few years ago I was reading another bookbinder's blog and I saw a huge tower of maybe 10 coptic stitch books with the caption "what I worked on over the weekend" and I stared at it with awe and not a little envy and commented something like "Wow, I could never imagine being that fast!" – well crafters and bookbinders – I'm here to tell you that I am that fast now, and I'm going to share with you my trip for making better books:
MAKE HUNDREDS OFÂ BOOKS
Hahaha, ok that's not a very fun tip, but hey, I think in this day and age of instant gratification (How quickly can you look something up on Wikipedia these days? I bet it's seconds) we all need to remember that craftsmanship hasn't changed, you still need to train your eyes, brain and fingers to do something unnatural like knitting, pottery and bookbinding, and the only way you're going to get better, more reliable results is to practice your art.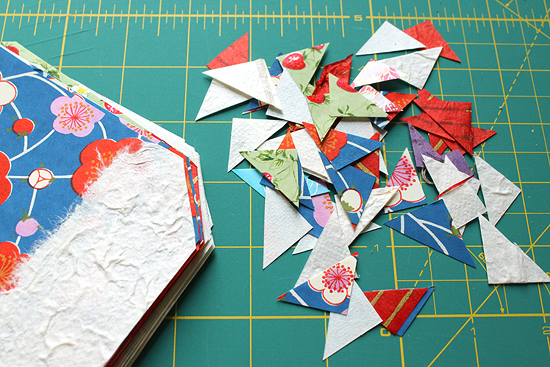 There used to be a sign tacked up in my middle school band room (I played clarinet for four years!) that said "Practice makes Perfect", and I loathed looking at it because honestly, I hated practicing – but that sign stuck with me and now I realize it's true. You'll never be perfect, and perfectionism is another demon to vanquish (maybe in another post) BUT the only way you'll get better is to allow yourself to make a huge volume of work, which over the years you'll see go from lousy, to ok to pretty good to really nice. Just remember, every expert was once a beginner, too!
At what point did you see your craft improving? Do you ever feel frustrated at not being able to "get it right"?