Are you like me? Do you have a stash of beautiful fabric that you buy "just because" or say "I'll make something out of this someday!" – me too…and I don't even sew! Haha. When I saw the class, "Making Book Cloth", being offered last fall at Asheville Bookworks I was intrigued…and I thought, "FINALLY – what a great way to reduce my fabric stash!" (turns out I was wrong about that…but you'll see why later)
Asheville is a gorgeous small town nestled in the Smoky mountains of North Carolina – it boasts the second highest amount of Art Deco architecture in the US after Miami Beach. It has over 250 independently owned restaurants, and they make a big effort to help small businesses thrive downtown. I've been to Asheville many times to take bookbinding classes and I always fit in a food tour when I go. (If you love food, and you've never taken a food tour, you are MISSING OUT.)
photo via Advance Reading Copy – great post about the venue
Asheville Bookworks is a great little workshop venue for bookbinding classes as well as letterpress and other printmaking techniques – you might recognize it from my Secret Belgian Binding post I did a few years back:
This one-day class "Making Book Cloth" was taught by the delightfully friendly and competent Sara Brooks of Original Brooks Bookbindery. In it we covered both wet and dry techniques for creating book cloth, which is basically fabric laminated to paper. I won't go into specifics since these are all Sara's secret formulas, but here are a whole bunch of pictures!
I thought it was an absolute genius move to use a wallpaper tool to smooth the thin rice paper onto the back of the pasted up fabric – so much more coverage than a bone folder!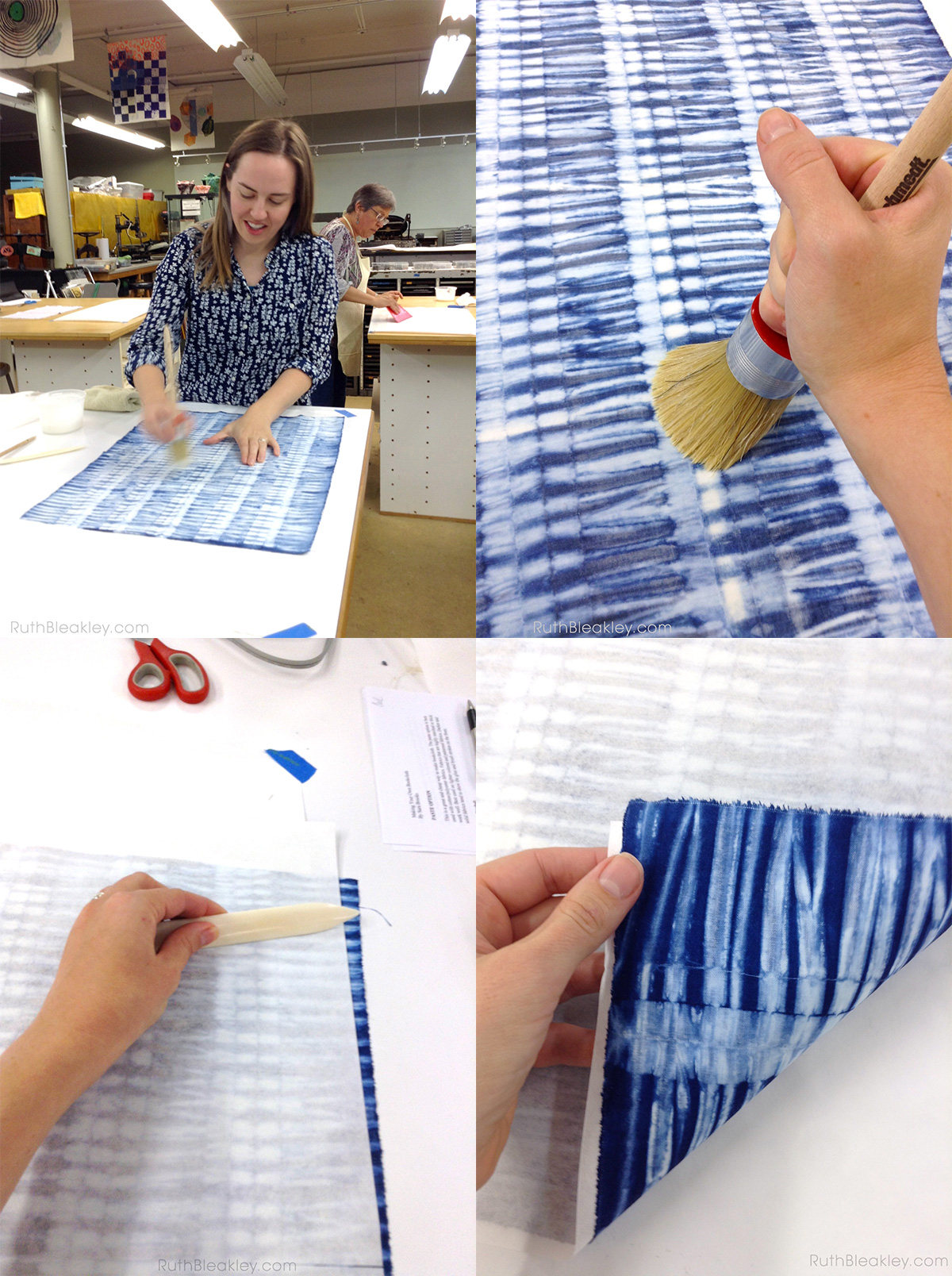 Here I am mashing paste into the back side of some beautiful hand-dyed indigo Shibori fabric made by my crafty pal from Woods Hole, Rachel Switzer – check out her awesome etsy shop Cape Cod Shibori. At this stage in the game I wasn't convinced that I wasn't RUINING my fabric by getting it all wet, but in fact once the paste dried you couldn't even see it!
Here's a selection of fun book cloth I made during class – I took it home still a little damp and then ironed it at home when it was dry using the highest heat setting and no steam…or maybe a little bit of steam? I don't think it mattered too much because these were all cottons.
AND THEN I MADE SOME BOOKS! (surprise!)
The whole reason you would make book cloth instead of simply gluing fabric directly to your book cover is that the paper on the back of the book cloth acts as a barrier to keep your glue from soaking through. Don't ask me why it doesn't matter that you get it soaking wet when making the cloth though. Maybe something to do with paste instead of glue? In any case, the paper-backed book cloth is very easy to work with, almost like working with paper!
Isn't this bluebird fabric STUNNING?! I fell in love with it as soon as I saw it (and like I said, I don't sew at all!) – it comes from Cloud9's April 2012 collection Alegria.  Geninne Zlatkis, the illustrator whose work is pictured above, is one of my all-time favorite artists! I have several of her prints in my studio and I'm even the proud owner of one of her original paintings: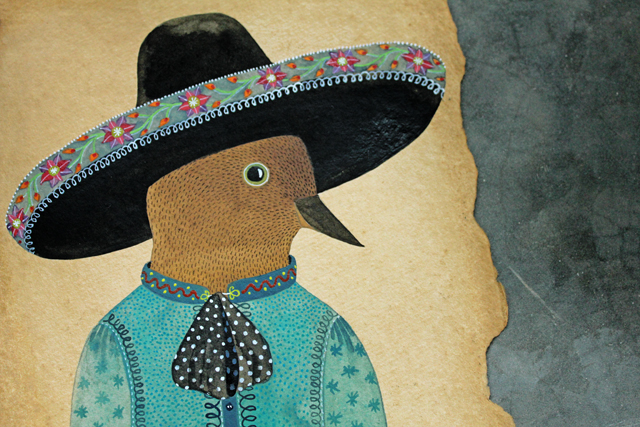 Pedro – Geninne Zlatkis – 2013
You can be immersed in the colorful, magical world of songbirds, animals wearing hats and flowers in her etsy shop here: Geninne
I bought this bluebird fabric years ago and brought it with me when I moved down here to Florida five years ago (has it been that long??). I am so pleased to have finally made something out of it. These lovely books aren't for sale though, I'm keeping them for myself!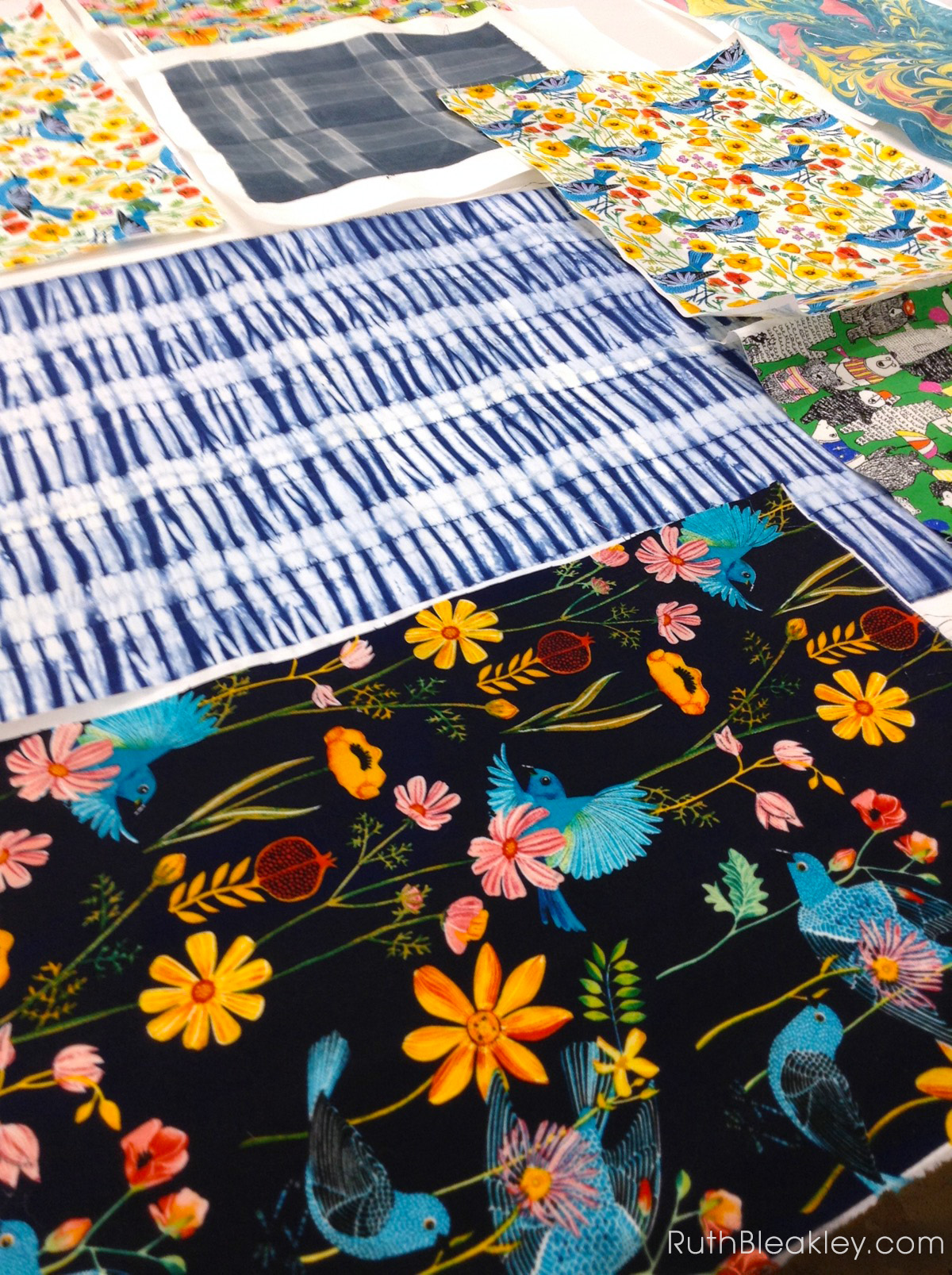 Next, some journals made from the beautiful indigo hand-dyed shibori fabric pictured above! You can see if I have any left here:Â Shibori Journals for Sale
(in a side note: so many of you emailed me after my last post:  Indigo and Gold Branches French Link Journals came out asking if I had more journals – I just added two to my shop, but I usually only make journals in small batches, so if you see something you like, you should grab it!)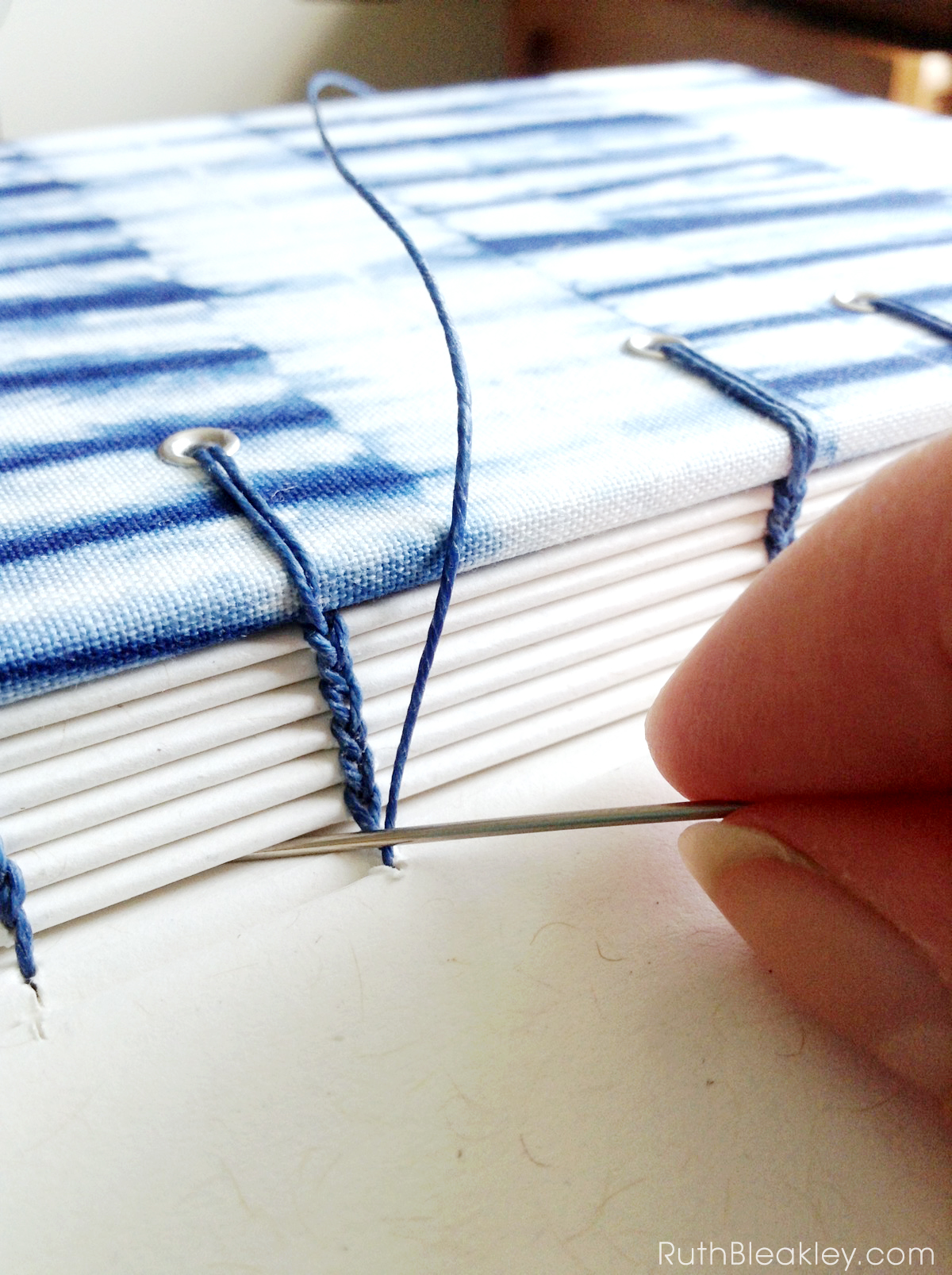 I just love the blue from the indigo dye!
From Rachel's Etsy Shop – Cape Cod Shibori:
I have always loved working with fabric and fiber. There was batik, quilting, knitting, rug hooking, printing fabric, and dyeing. A few years ago I arrived at Shibori, the ancient Japanese resist technique in which fabric is manipulated and dyed to create pattern. This process entails many aspects of creating, that I truly love. I get to spend hours hand stitching, surrounded by spools of thread, a vintage pincushion, and a crisp cotton or textured linen. After stitching and the fabrics are pulled tight to resist the dye, I slosh around in buckets of color turning white material into beautiful patterns. Finally, the magic is revealed after all the stitches are removed. That is an exciting moment, since I can't be exactly sure how the finished piece will appear.
Well this fabric came out beautifully as book cloth, and I love the rich color variation that comes from the repeated dips in the indigo dye. Both the book cloth and the book were hand-sewn. I love that so much hand-stitching went into an item that we usually don't associate with hand-sewing – a journal!
The only problem with this "How to Make Book Cloth" class was that instead of making me use up all of my fabric…it just made me want to acquire more and more fabric so that I could make more and more book cloth!…as you'll see soon in an upcoming post!
---
Thank you so much for reading my blog! Once again if you'd like to see if any of these are available, I invite you to visit my etsy shop : Shibori Journals for Sale (there are also lots of other journals to choose from if these are sold out)
…I just love this wallpaper smoothing tool!
---
Do you want to learn more about bookbinding? I recommend five of my favorite books to learn from in this post: 5 Great How-to Books about Bookbinding
Thank you so much for reading my blog – if you enjoy bookbinding, check out my Pinterest board Handmade Books + Journals (which as of this writing has 10,169 followers!) and don't forget to sign up for my newsletter:

this post contains affiliate links