Summertime memory: coming back from the beach during the heat of the day to eat ice cream sandwiches and watch "Saved By the Bell" reruns at my grandparent's house. And now I live in the same house! But…no TV…and also I'm lactose intolerant now, so no ice cream. But hey, one out of three ain't bad. haha. If you aren't familiar with the show, it's about a wholesome high school in California. The opening intro theme was full of memphis design inspired postmodern graphics, and when I made the marbled paper on the cover of this book, it reminded me of it!
This book is for sale in my handmade journal shop.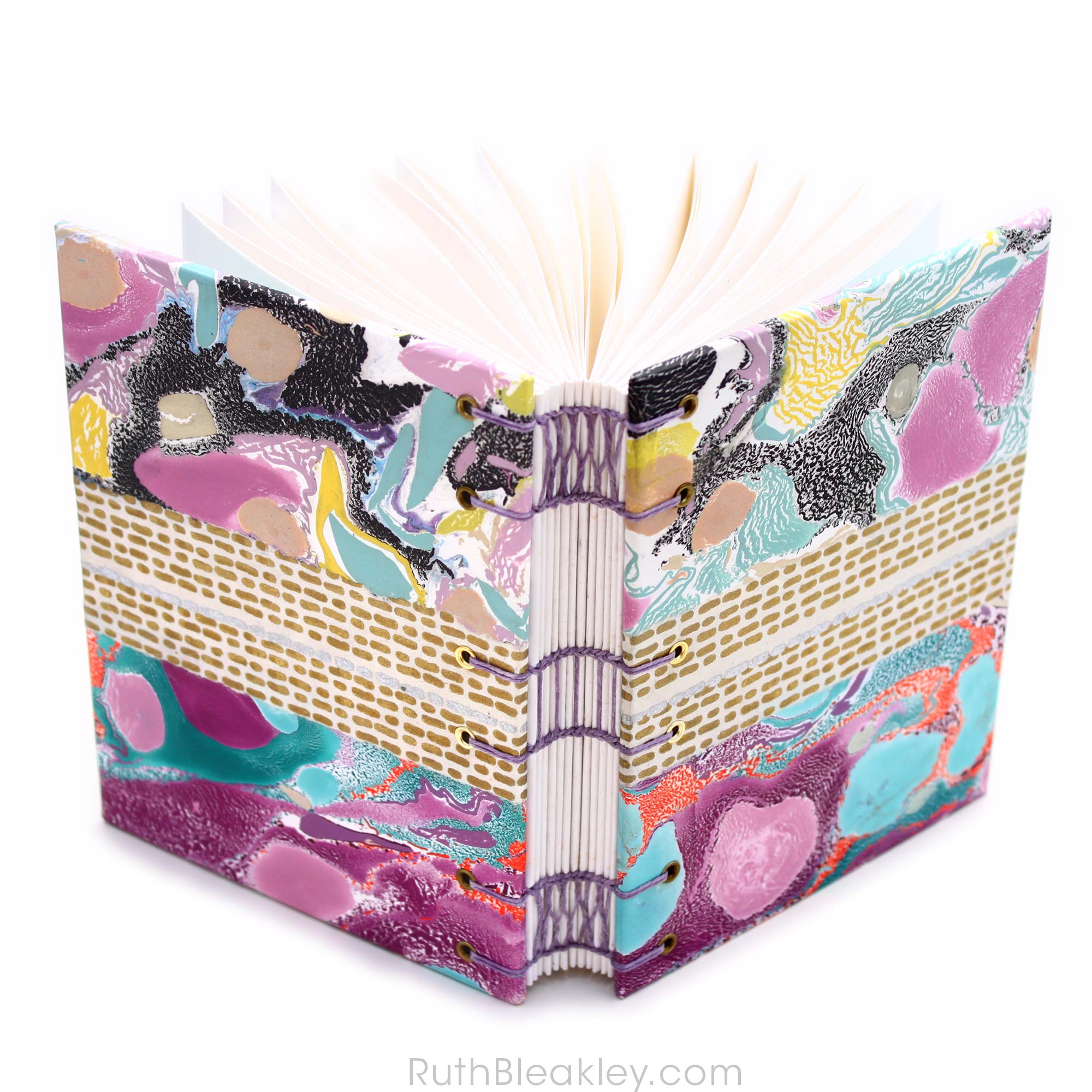 Marbling the Paper
In October of 2019 I took a wonderful marbling workshop from Natalie Stopka, an accomplished marbler, pigment maker and (in a past life) book artist based in New York. I've always wanted to meet her and I had a great experience. I highly recommend taking a class with her, she has some online workshops scheduled. (As of this blog post, she also has a class scheduled for October 2020 again at Aya Fiber Studio) Even though I've done marbling before, I still learned plenty of tips and tricks.
Our marbling class took place at Aya Fiber Studio, an open studio right next to a charming seaside marina in Stuart, Florida. I'd already been there before to take an indigo dyeing class the previous year, and it's a wonderful space with plenty of room and doors that open on both sides to let the sea breeze in.
The only issue is that marbling…and breezes…are not always friends! I remember when I went to Japan to be on that reality show about arts and crafts, the studio was absolutely stifling, with no open windows, no fans and NO air conditioning. That's because the motion of the air on the surface of the water will disrupt the pattern…but when done intentionally, the results can be really interesting!
We had several days of great marbling in Natalie's class but by the end of the third day, it was getting pretty hot and we had to turn on the fans. I noticed that my marbling ink was actually drying on the surface of the size! I thought the fractured look of the paint as it dried was so interesting, I intentionally left it on the marbling bath for more than an hour during lunch, to create some amazing crackled paper, which you can see here:
Sewing the book together
Those of you who like to plan things out will be frustrated to hear that I didn't plan out the stitch pattern of this book before I started sewing. After combining several of the "fractured" papers for the covers, and another lovely aqua marbled paper for the inside endpapers I chose pale lavender thread to sew the book.
I had sort of a vague idea of combining french link and coptic, but I simply decided to "let the spirit lead me" while I was sewing. Honestly, it wasn't until I was nearly done that I was pleased with the result. About halfway through I thought, "what is even going on here?!", and considered pulling out all the stitches, but the more signatures you add, the better the pattern emerges, so I'm glad I kept going. The spacing between the straight ladder stitches was unintentional, I simply skipped a signature, but decided to keep the pattern going and I like the spacing.
It could be yours: Saved by the Bell Journal – Handmade Journal Shop
The Saved by the Bell Journal is pictured above with one of my Woven Spine Journals.
This post may contain affiliate links, to help me support my site.