This summer I was feeling a little bored with my usual coptic stitch, and I thought I'd look into taking a class at Asheville Bookworks in beautiful Asheville, North Carolina. Last year I took a wonderful week long class at nearby Penland School of Crafts  and when I was in Asheville I took a peek into Bookworks and loved the space! Just my luck, the class available in September at Bookworks, Secret Belgian Binding, was taught by a fellow classmate from Penland, Hollis Fouts!
Holly was a wonderful and patient teacher, and I highly recommend her class – here are some picture highlights from my project: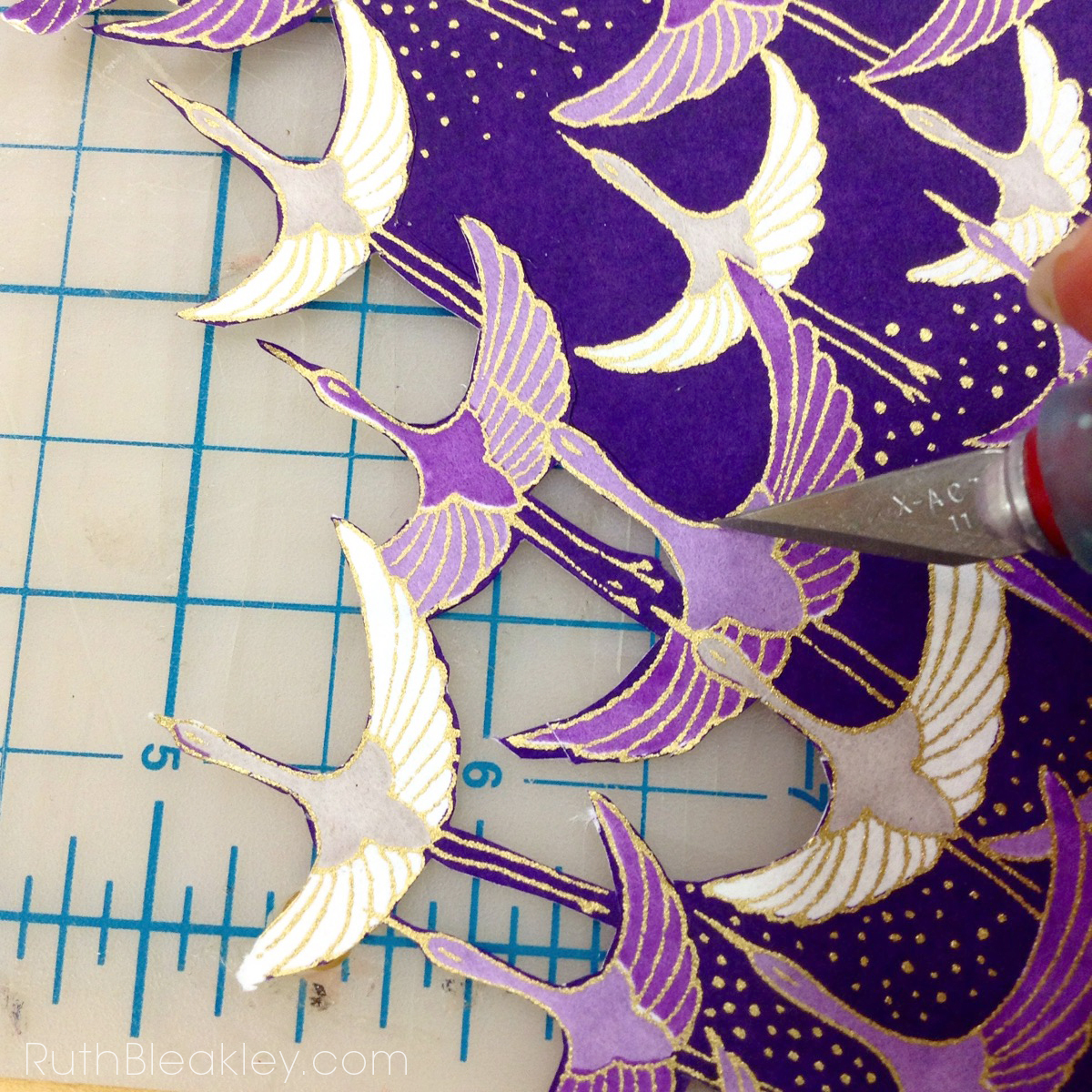 I carefully cut out this purple cranes chiyogami paper to collage onto the purple lokta paper I used on the covers. I worked a little faster than some of the other folks in class, so this gave me something to do while waiting for the next step.
The text block for the secret Belgian binding was sewn using one of my favorite decorative bookbinding stitches, french link stitch. This stitch is also functional because it makes a tighter binding. You can also see the teflon tapes we sewed around, which made lacing the cover on easier later.
Here I am sewing the cover, lacing in the text block with every pass. All of the cover thread (pictured here in white) is one looooong piece  – I think this one was 9 feet long.
Ta da! Here's my finished book! The finished size was bout 7″x9″ – I made this one for myself in my favorite color – purple!
Here are some of the other books made by my classmates – they came out beautifully! Many of the 8 or so class participants had never made a handmade book at all, which makes it even more impressive since the secret Belgian binding was pretty tricky!
I don't think I'll be adding these to my repertoire anytime soon because they are so technical and labor intensive, but I had a lot of fun challenging myself to learn a new technique!
Check out the Asheville Bookworks site to see if there any good classes coming up:
You can also check out Holly's website to see what classes she has coming up:
www.HollisFouts.com/home/schedule