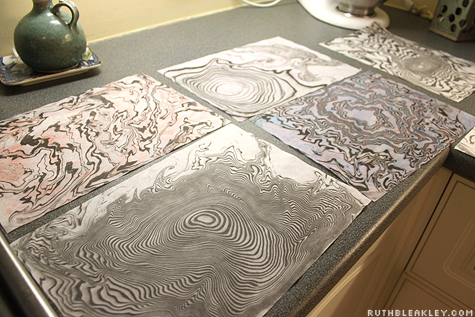 Suminagashi marbling is a Japanese paper marbling technique that involves floating sumi ink on water in concentric rings. While relatively easy, there are still a few things that can go wrong while you're marbling, so here are some tips if you're running into trouble on your marbled paper. This post was originally created to accompany my Suminagashi instructions found in  the tutorials section of The Little Book of Book Making.
Here are the sources of the Suminagashi materials that I'm using in these photos:
Black Ink: Yasutomo Liquid Sumi Black Ink 2oz
Color Ink (above): Aitoh Marbling Kit
Dispersant (add to water for "white" ink): Photo Flo  or  Marbling Surfactant (preferred)
Paper: Yasutomo Hosho Sketch Paper 9×12 (rice paper)
(note: Do NOT get the Hanshi paper, it's too thin)
Brush: Chinese Calligraphy Brush 
(the quality of this brush isn't crucial since you're only using it to dip, not paint you'll need more than 1 – just get any of the same type of "medium" size – one for each color)
Problem: Suminagashi Ink Isn't Floating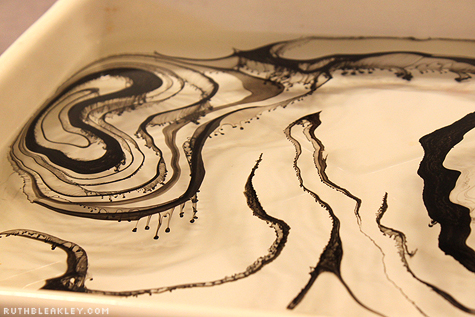 Answer: add another drop of dispersant to your ink, squeeze any excess ink from your brush with your fingertips, or try skimming the water before adding ink to the surface. If the water in your water bath is gray and murky, change the whole water bath and make sure to skim the surface before you dip your brush in.
Problem: Suminagashi ink rings are blurry after you make a print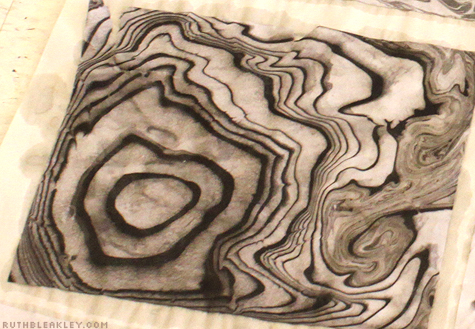 Answer: Too much ink – try holding your brush in the water for less time, so that less ink is deposited on the surface of the water, and/or after you make a print, submerse the entire sheet of paper under the water bath and gently shake back and forth to dislodge extra ink. Watch out, because this can make your paper super delicate and more likely to tear.
Problem: Sumingashi "whisker" marks on your marbled paper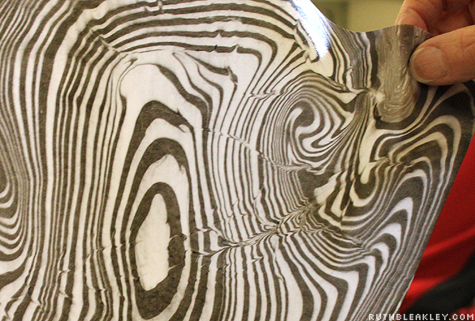 Answer: Printing too quickly. Instead, lay the paper down more gently when you take a print – whisker marks are caused by tiny air gusts flowing under the paper as you lay it down on the water's surface. (they can also be a neat effect to experiment with)
Problem:Suminagashi ink rings aren't expanding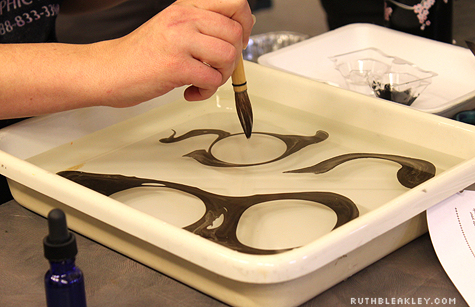 Answer: Skim the surface of the water with newspaper strips thoroughly before you start adding ink to the water – dust trapped on the surface increases surface tension, and doesn't allow rings to expand properly. If it's still not helping, change the whole water bath.
Problem: Suminagashi marbling water is getting murky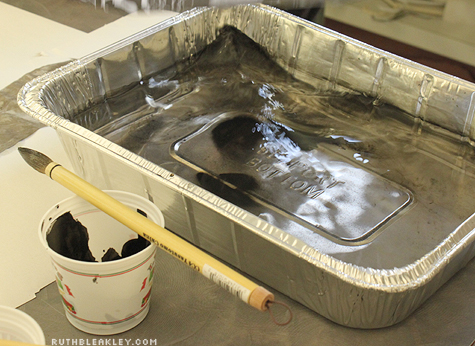 Answer: squeeze excess ink from the brush with your fingertips, only dip the very tip of the brush on the surface of the water – no deeper than 1/8″ – imagine only dipping your fingernail into the water.

Here are some videos to show what I mean – the first one is me, and the second is my friend Jen, her very first try! Look how gently we dip the brushes, and how little they go into the water, I hope this helps! – in both cases we are using a 13×9 clear glass baking dish (look at the thrift store) with a white sheet of paper underneath so that we can see the rings: