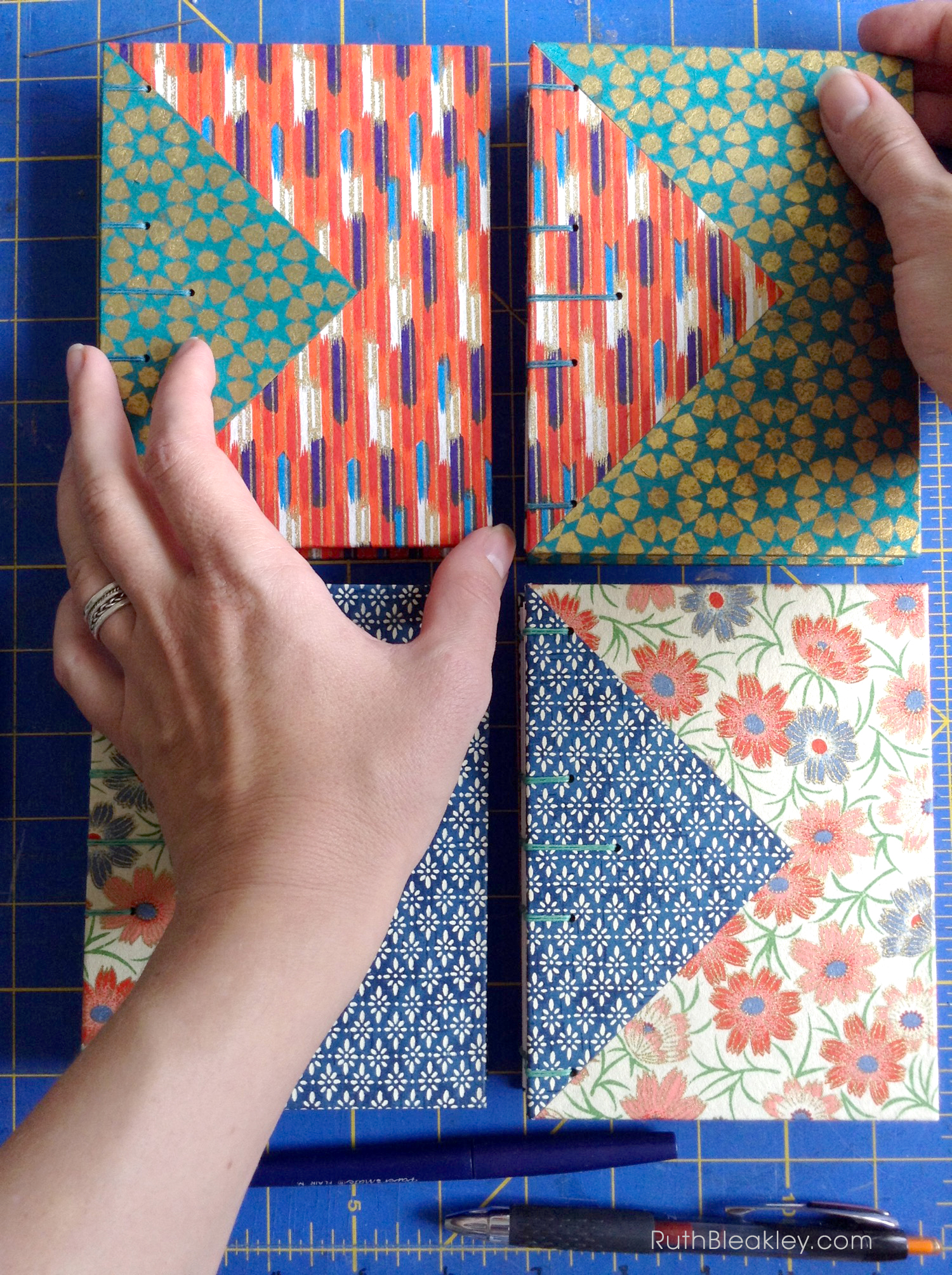 One of my favorite things about living in Florida is how bright and colorful everything is. No one blinks twice at an aqua or coral colored house, or my crazy purple hair. It's interesting then, that one of my all time favorite bookbinding materials is this super colorful and vibrant Japanese Chiyogami paper since having over the top and colorful hair or flashy clothing isn't really something that people do in Japan. When I was fortunate enough to visit, I had folks literally walk around the store aisle twice so they could see my hair, haha.
This bright and colorful Chiyogami paper  (also sometimes called Yuzen Washi) is based off of gorgeous colorful silk kimono patterns, and was originally developed as paper gift wrap for the royal court during the Edo period. Each sheet is hand-printed using silkscreen techniques, and often incorporates shimmering gold ink. It feels and looks luxurious and I bought SO MUCH of it when I visited Tokyo last year that the airline attendants thought I had bought a carpet.
Did someone say "business expense"? hahaha.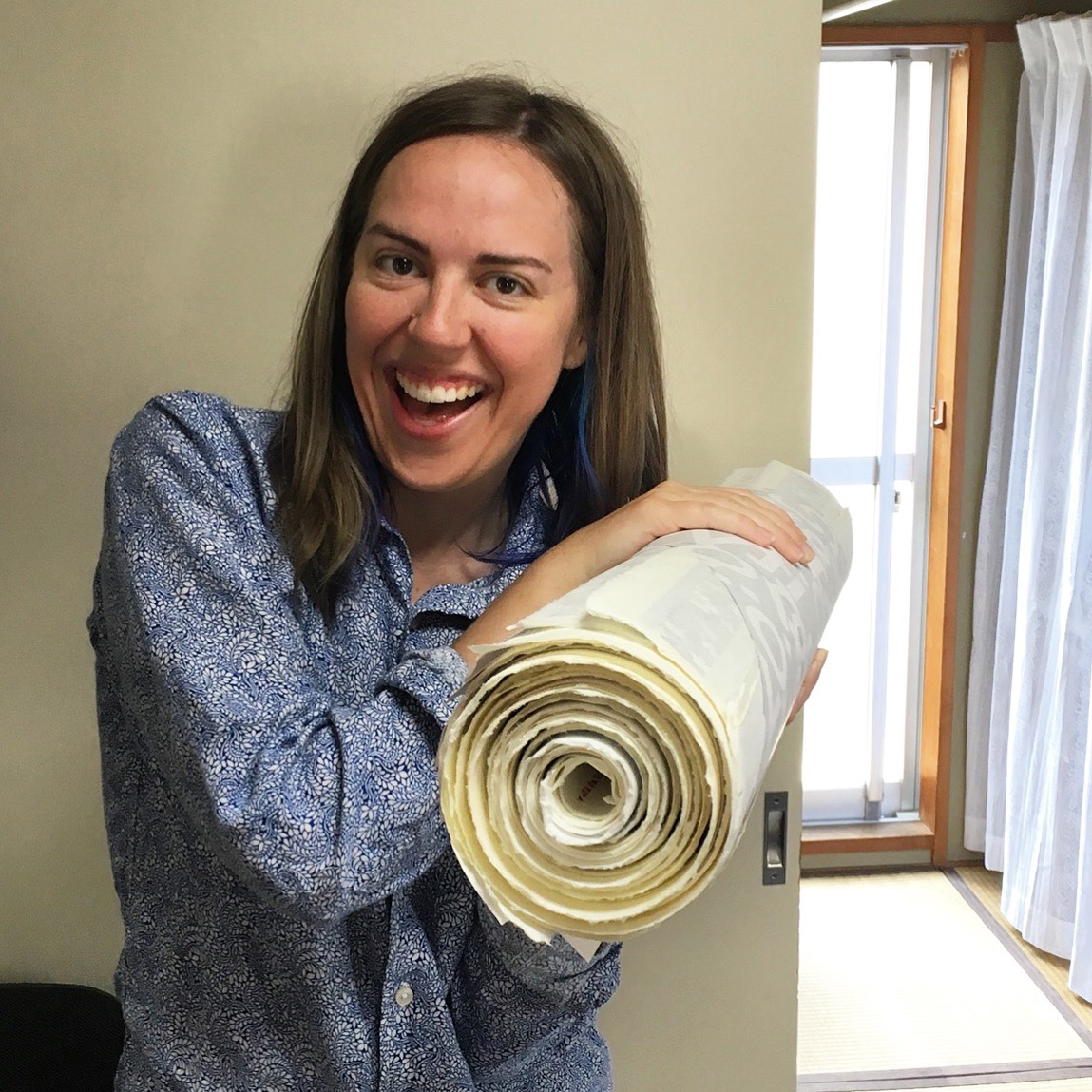 Recently I've been going through my collection  with an eye out for pattern combinations – when I was describing this project to my friend Rachel, she said, "That's funny, I've been trying to do that more with my clothes – be adventurous but not look like patterns puked on me". Hahaha – well I'm no pattern-combining expert, but here are some tips.
How to Successfully Combine Patterns
1. Look for one (or several) colors in common between the two patterns
2. Try to mix large and small pattern elements 
3. Choose colors that are opposites on the color wheel (like orange and blue or purple and yellow) or colors that are right next to each other (like red and orange, or green and blue)
Don't know what a color wheel is? It's a handy paper circle with colors around the edge and is used by artists and designers to mix paint and visually understand color theory. It works like magic! There is a dial in the middle that you turn and little windows show what the new color would be if you added the color at the top. I ordered one because I'm taking a watercolor class and I think it really helps take some of the mystery out of color mixing.


Let's see how I mixed patterns in these books – I call them "Twin Journals" because they are the inverse pattern of one another. My friend Ellen suggested that they look envelopes when they're closed – envelopes containing letters to yourself! I love that visual. When they are displayed open, the triangles form a diamond shape around the spine. They would be a fun gift for your best friend, for someone who is moving away, maybe a mother-daughter gift, or perhaps for your long distance love. Each of you would have the matching version of the other's book!

On this colorful pair of journals I've combined red-orange and blue-green colors (opposites on the color wheel) as well as purple and gold (also opposites) and we have a narrow stripe pattern combined with a round pattern, so that adds some visual interest because the two shapes contrast. What you can't really see in the photos is that all of the gold ink on the aqua paper shimmers in the light! You can see if either of these is available in my online shop here:
Aqua and Orange Twin Journals for sale here
Moving on to this lovely blue dots and orange florals combination:
On this floral and blue dot combination I chose complimentary colors (orange and blue) and chose one large pattern (the flowers) and one small pattern (the white dots on the blue paper). I also chose a  blue colored paper that was similar in tone to one of the blue flower colors.
Floral and Blue Dot Journals for sale here
Goldfish and Waves Journals for sale here
These goldfish and waves journals use complimentary orange and blue colors as well as thematic similarity to pull two patterns together – waves and fish! It's like you're looking into the water and spotting the fish under the waves. The dots of the fish and the lines of the waves also compliment each other because they have contrasting shapes. The color that ties the two books together is the color blue – light on the fish side and dark on the waves side. This breed of goldfish ("kingyo" in Japanese) is called Tamasaba and is the result of hundreds of years of selective breeding – I always thought these were called "koi" but those are a much larger, different species. The blue pan is how they are shown for sale, and it's also the background color for this popular goldfish paper! There is a huge collector's market for these fish, some of them fetching hundreds of dollars at auction. They can live from 6-20 years and grow to be the size of a baseball!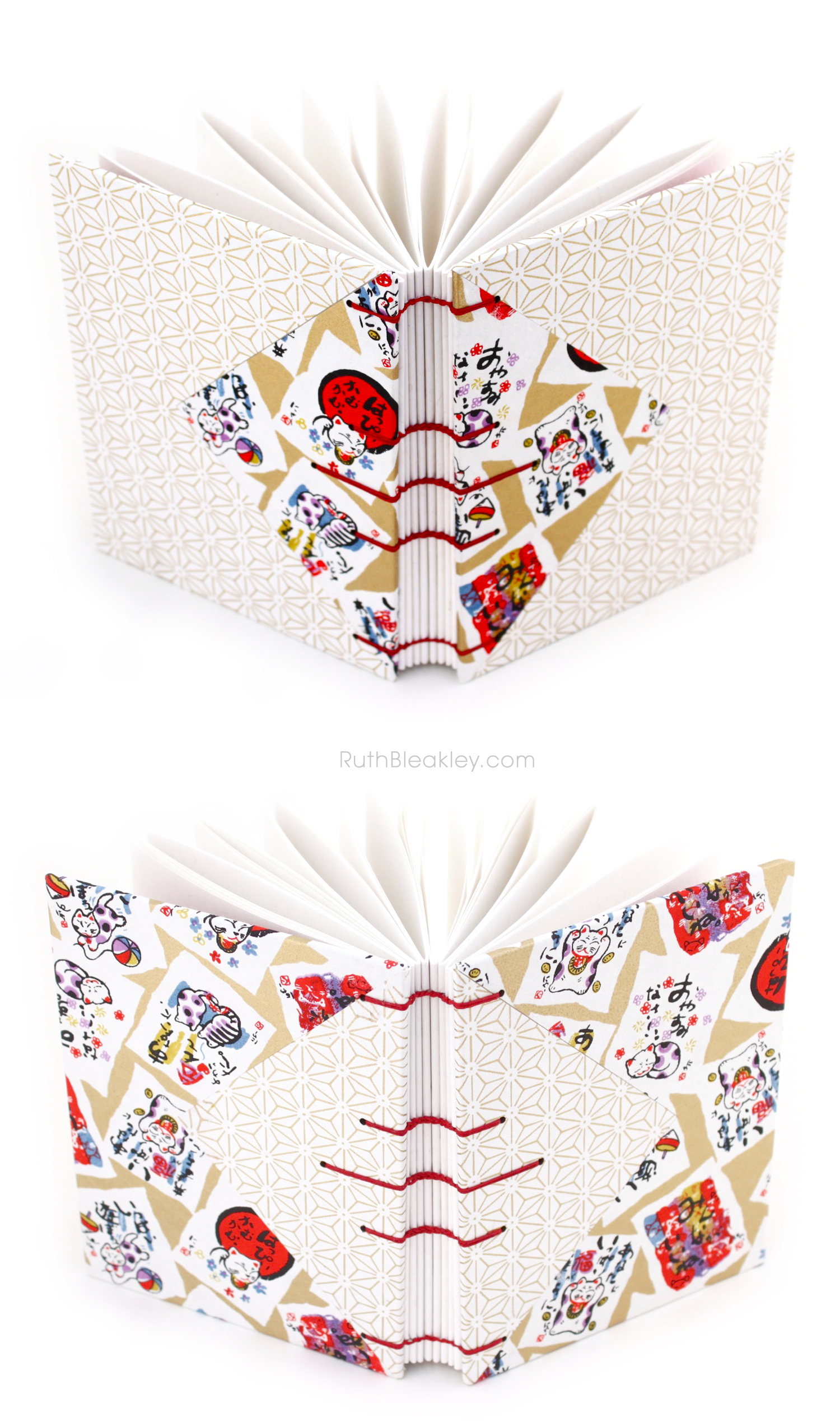 Last we have these fun gold and red cat journals – I don't speak Japanese so I'm not sure what they say, if you do, please leave a comment! I think they say things like "having fun at the festival!" like postcards. For this pattern matching I did gold and white paper with a simple pattern to complement the busy gold and white pattern on the cat paper. I pulled the red color out with the stitching in waxed linen thread. I love how sparkly these are in real life!
Gold and White Cat Journals for sale here
If you REALLY want to improve your pattern-matching skills, or just want to keep your brain sharp, try this pattern-matching card game called "Set". I really like it, and I hate games! (one of my friends asked me, "do you like board games?" and I replied "well I've been bored by games…" haha) The neat thing is that everyone plays at the same time, and whoever picks up the most sets of three cards that match wins. My friend Blair is a master at this game, she will just clean the floor with you. Don't play against anyone named Blair. Anyway, you get better at pattern recognition the more you play and it also doesn't take up much space so it's great to take along on a trip.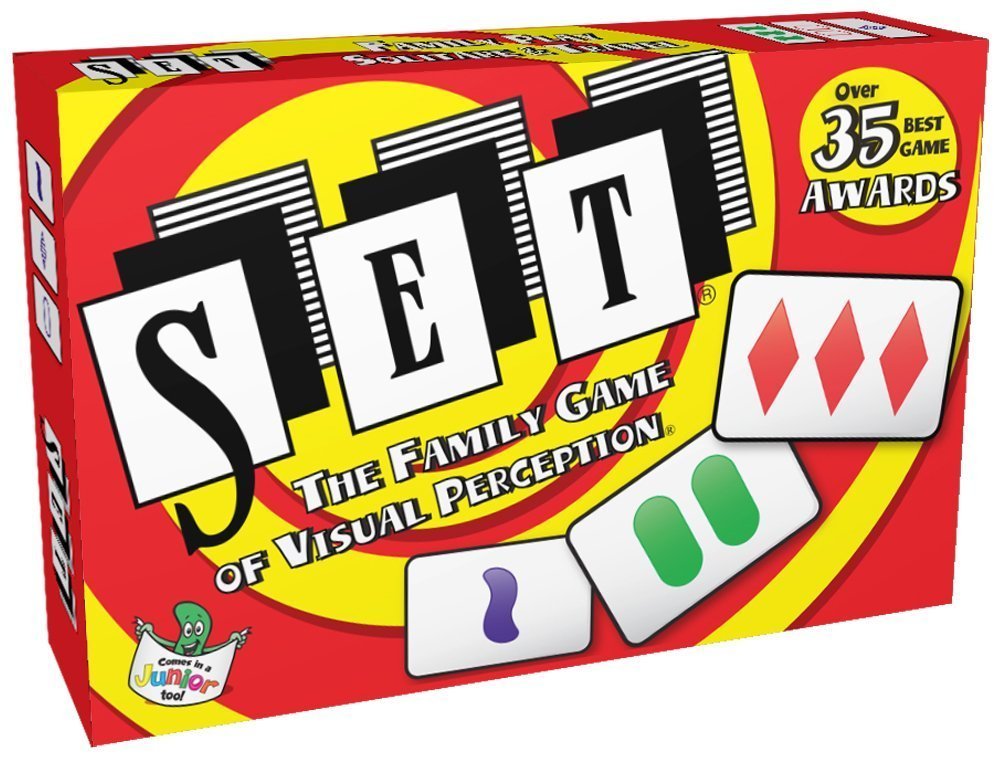 Thanks for reading my post! If you love looking at handmade journals, check out my Pinterest board Handmade Books + Journals (which as of this writing has 10,301 followers! I love Pinterest, so please feel free to pin any of my photos!) and don't forget to sign up for my newsletter:

this post contains affiliate links