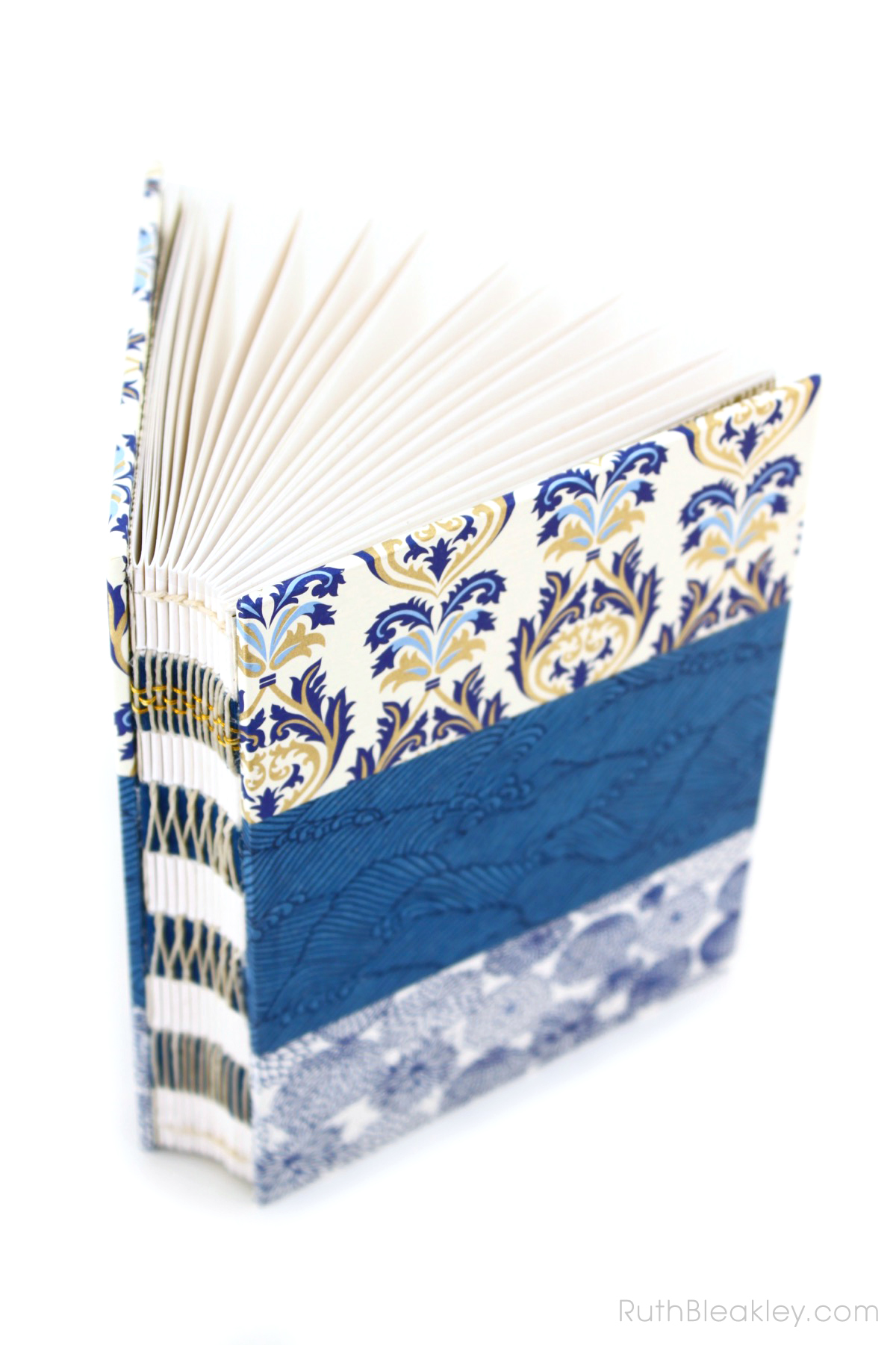 This lovely blue waves french link journal combines two of my favorite things: fancy stitching and decorative paper! I combined four different types of decorative paper in this book, a blue and gold florentine pattern made in Italy, a blue waves pattern and white flower pattern both made in Japan (this pack of five chiyogami papers on Amazon is similar and very pretty), and a faux woodgrain pattern made in Nepal. It's a global celebration of paper!
I stitched the book together on tapes (the blue bands you see) using French Link Stitch, a type of binding usually found on the insides of traditional hand bound books, but that is now revealed in a decorative fashion on the spine of this book.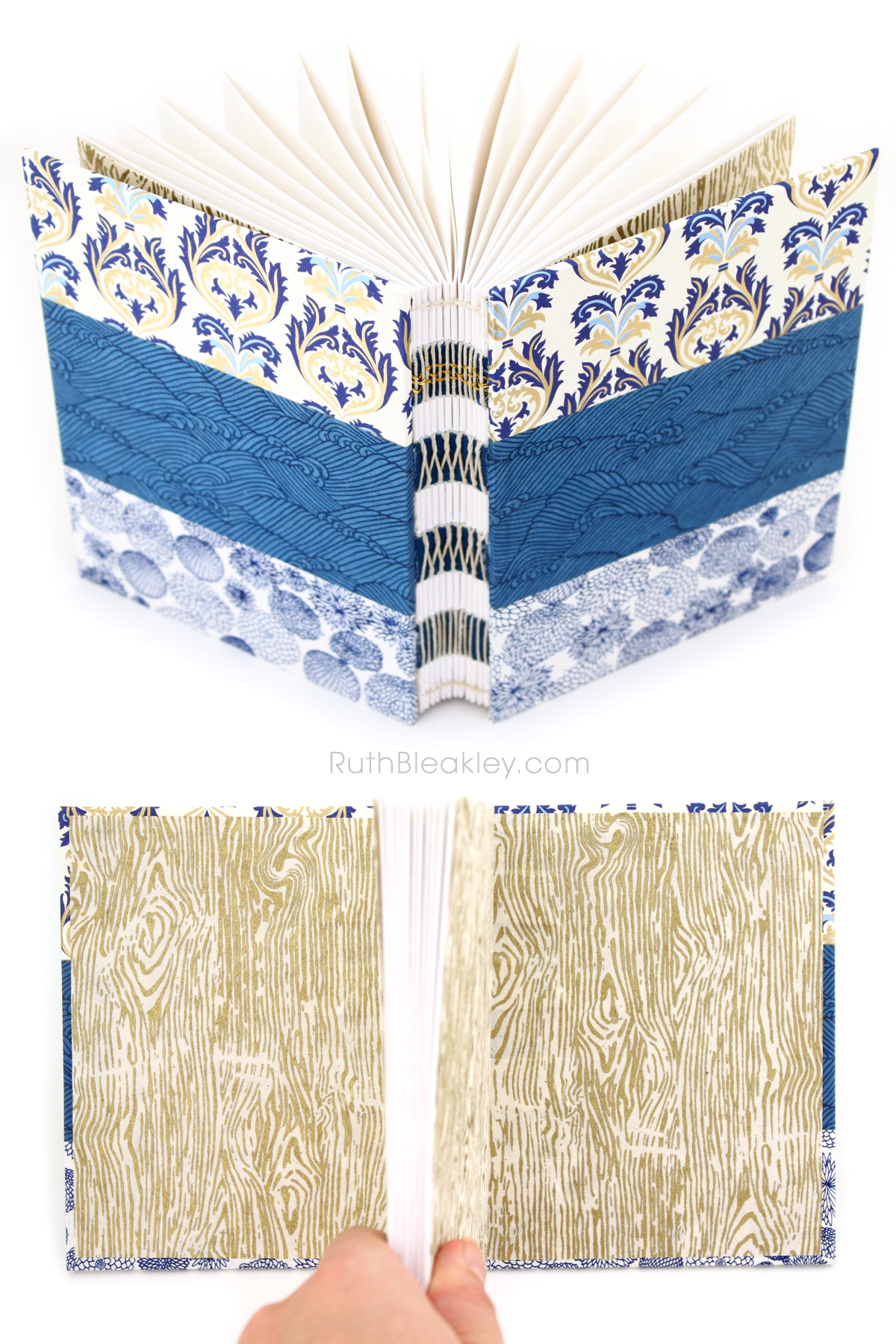 It took me a little white to figure out how I wanted to lay out the papers on this book. I had fun mixing and matching combinations for the cover. I ultimately decided to have the paper with the gold ink at the top, similar to the sun. I place the waves in the middle as a dark blue contrast, so that from far away it would look like a blue stripe, and then the white and blue flowers at the bottom. The gold, blue and white also makes a sort of abstract landscape, like the flowers are growing on the "shore" of the beach.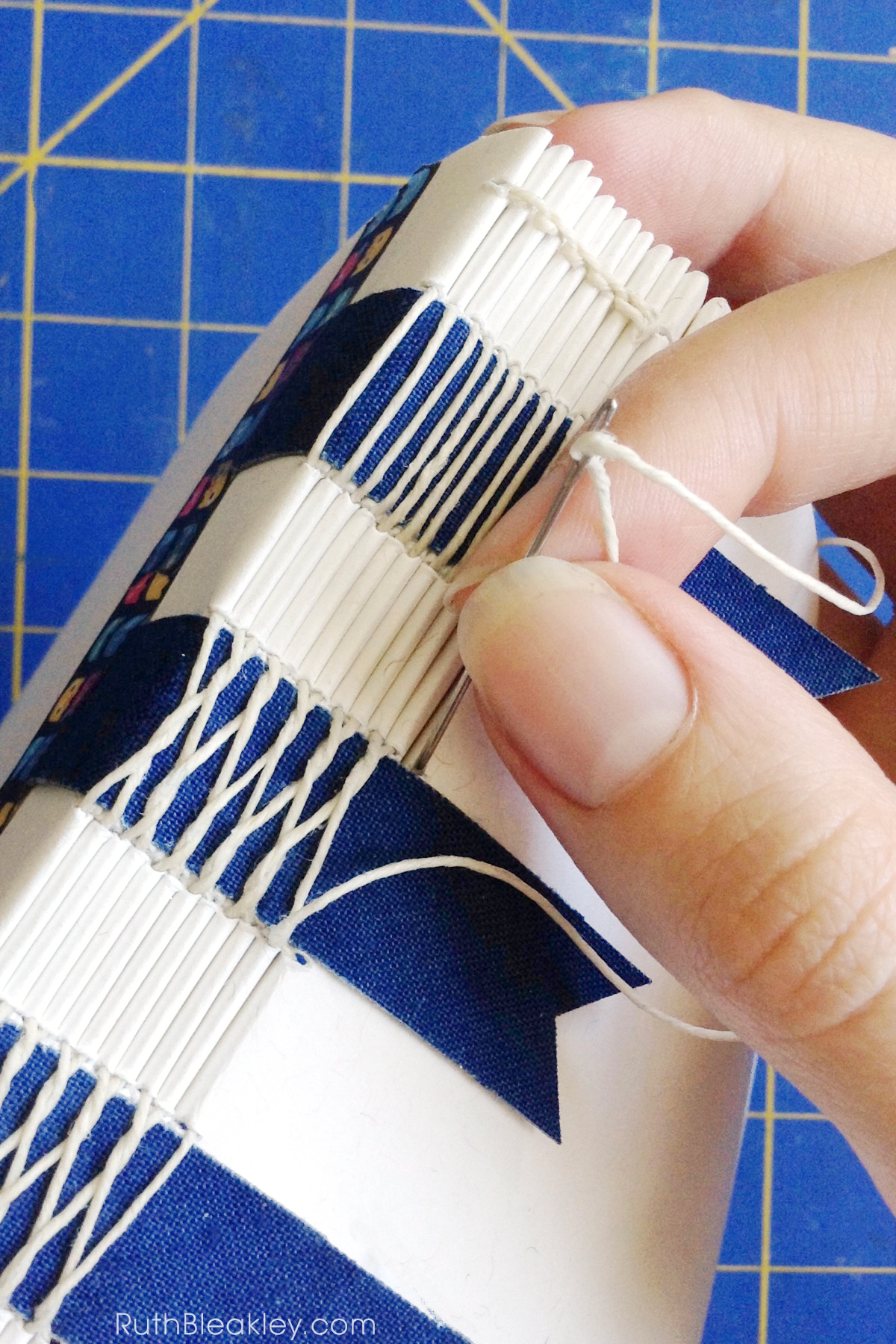 I stitched the book together with a combination of French link stitches and regular straight stitches, and decided to enhance the text block by weaving in gold thread, which I found by unplying some gold and white baker's twine that I had on hand for packaging up orders. I untwisted the white and gold twine and used just the gold parts, weaving it over and under the white waxed linen thread binding. The end result is a gorgeous, shimmering gold and blue journal that I'm really proud of! You can see if I have any available here, but I make pretty limited editions of my journals, so it may have sold out:
Blue Waves Florentine French Link Journal For Sale
Journals are great gifts for the writers in your life, the English majors, the artists who would like to sketch inside the unlined pages, or anyone who is going through a new phase in life: new moms, recent graduates, empty nesters, friends who are moving, folks who are grieving… You can see all of  my handmade books for sale here: Ruth Bleakley's journals for sale on etsy.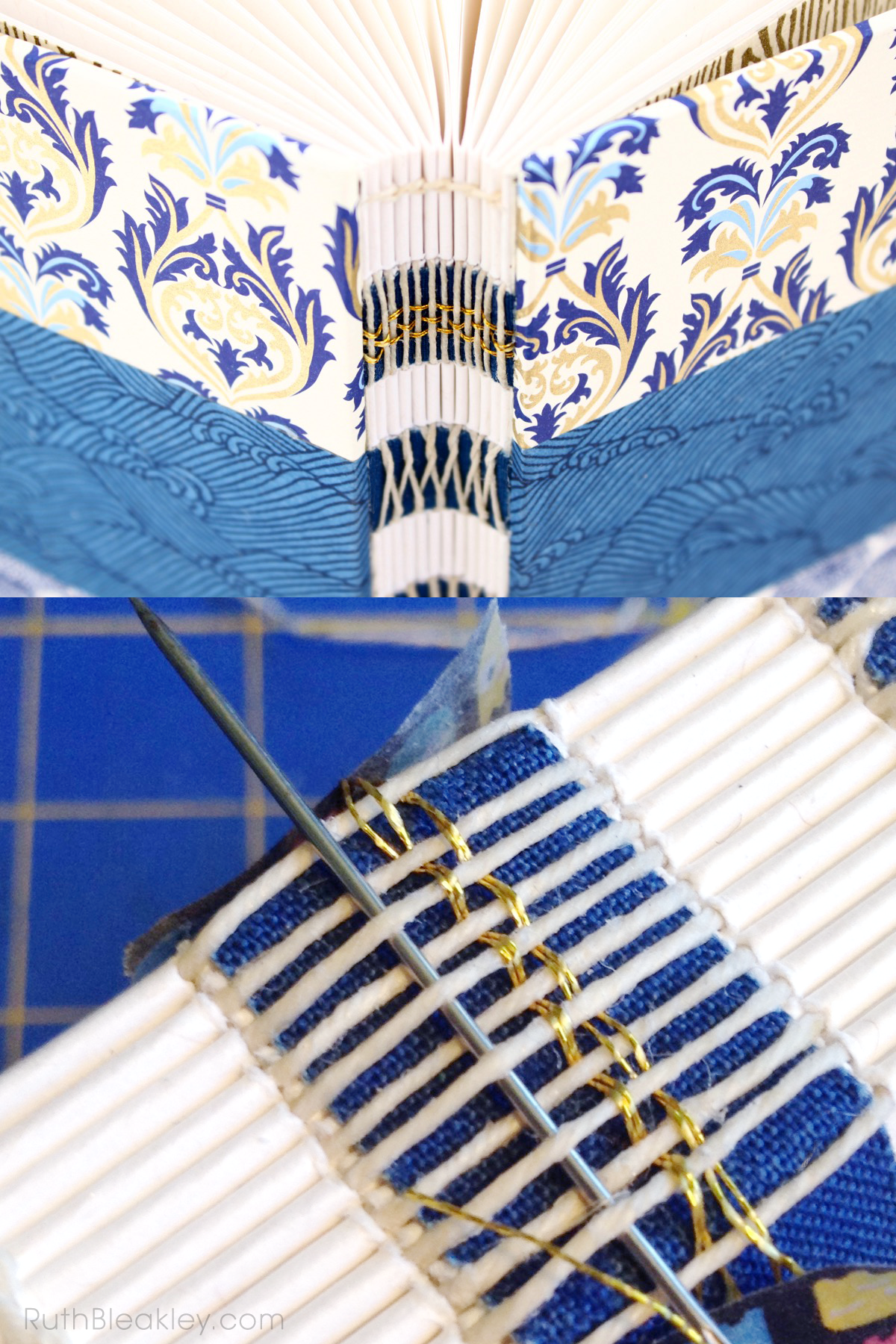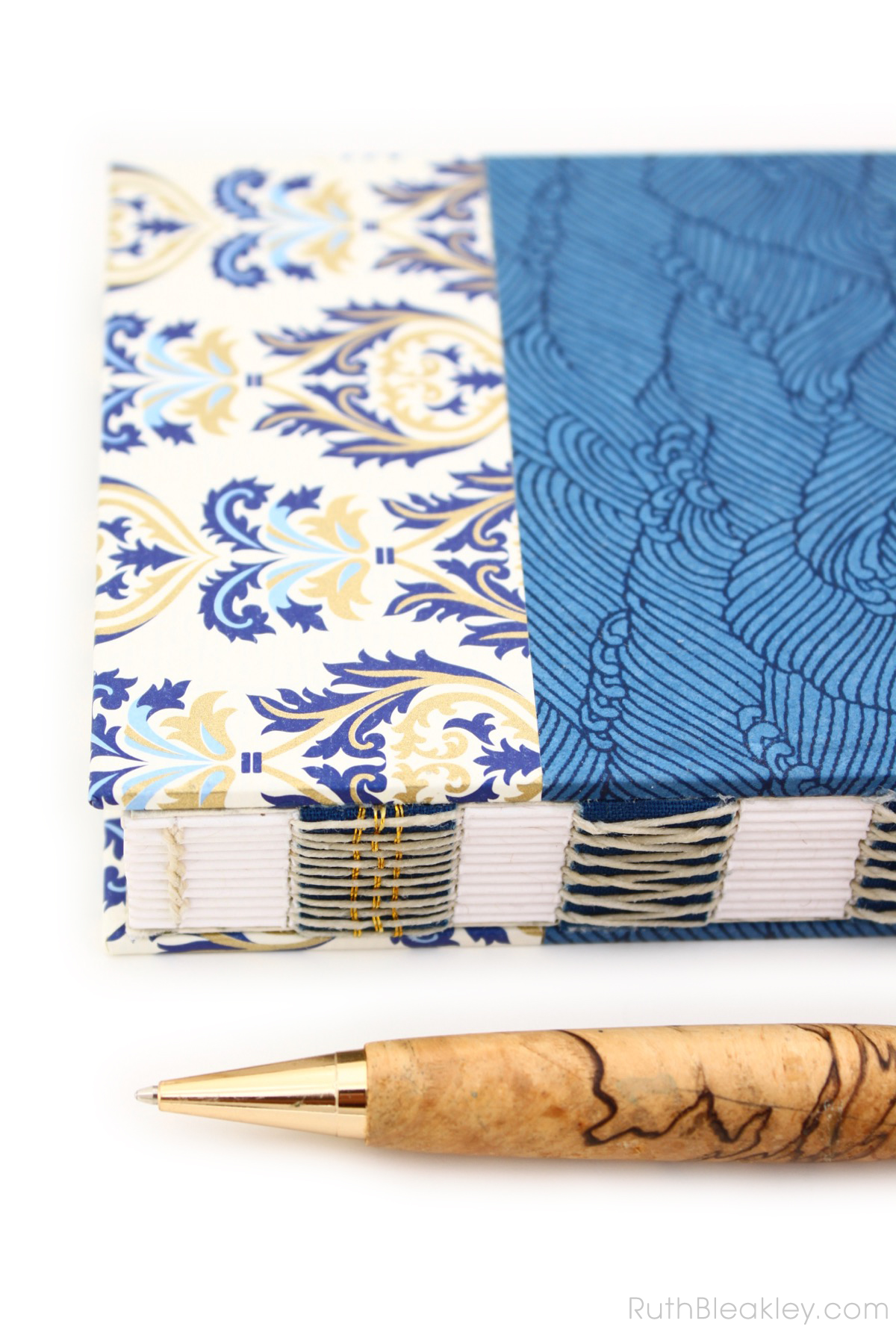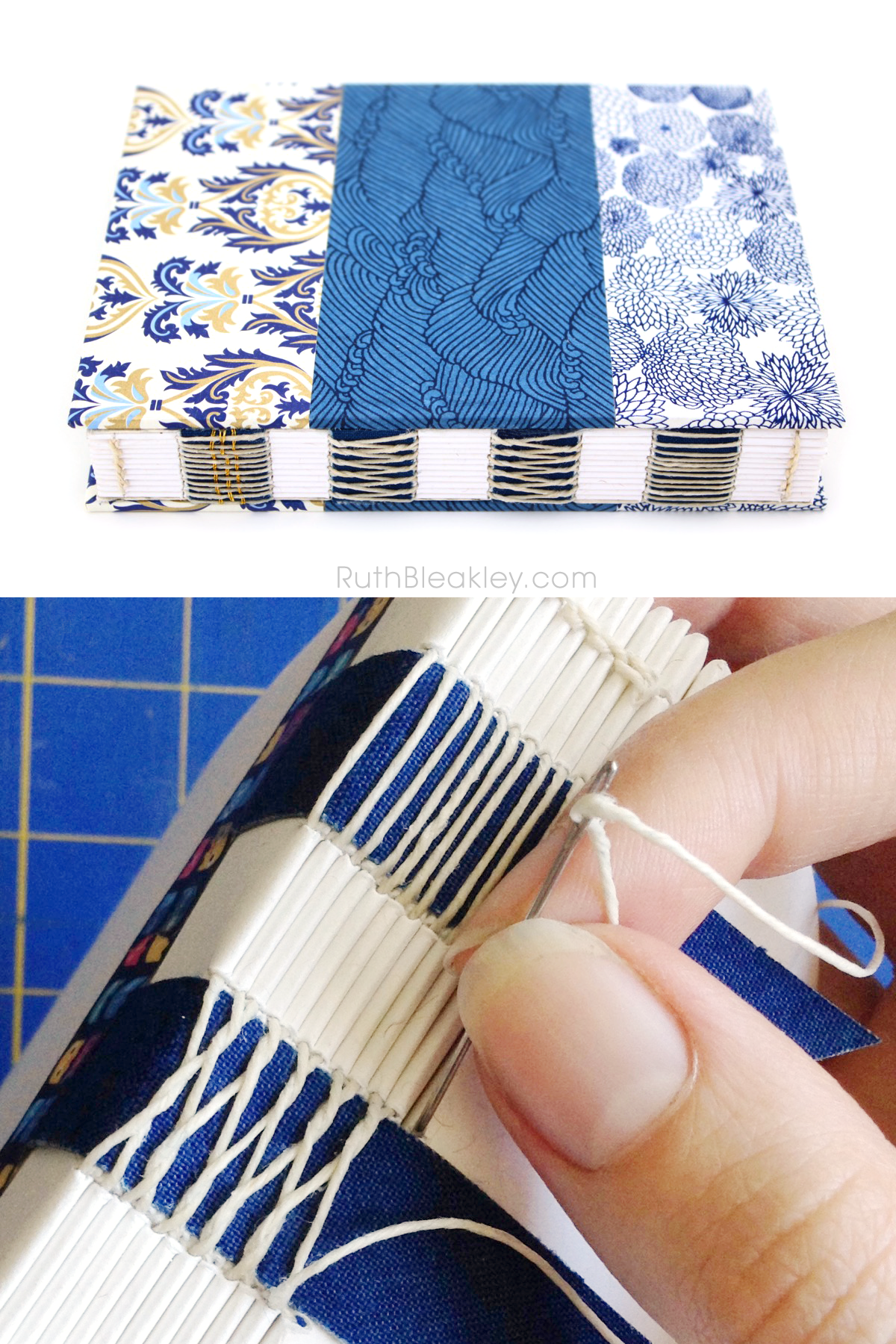 Thanks for reading my post! If you love looking at handmade journals, check out my Pinterest board Handmade Books + Journals (which as of this writing has 10,304 followers! I love Pinterest, so please feel free to pin any of my photos!) and don't forget to sign up for my newsletter:

this post contains affiliate links