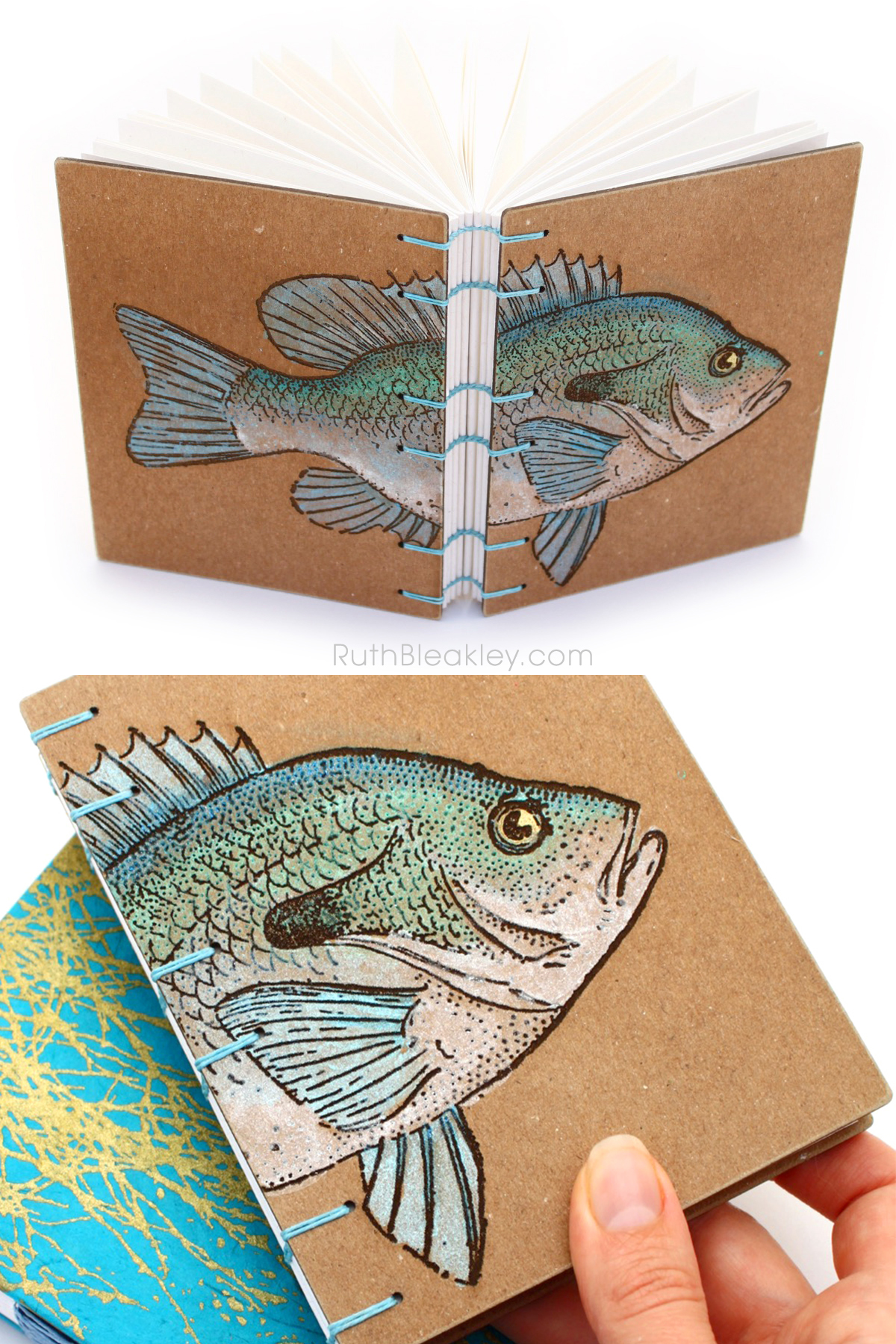 Many years ago, one of my favorite types of books to make were hand-painted ones, but with the discovery of Japanese Chiyogami paper, I got away from that for a while, but now that I have the amazing Glowforge laser cutter, I'm back at the hand-painting game! This fish journal is a great example of how just adding a bit of color can make a simple black and white drawing (in this case, a 19th century etching that I've digitally restored) really pop back into real-life with vibrant color.
I also remembered to take a time lapse video of me painting them! I learned watercolor here and there, but I've never taken a specific class for it, although it's definitely on my to-do list.
In case you're curious, these are the paints I'm using, very affordable at less than $10: Yasutomo Pearlescent Watercolors
However, there are a lot of other beautiful shimmering watercolor paints, and next time I think I'll treat myself to something a bit more high end like these Fine Tec Artist Mica Pearlescent Watercolor Paint ( if you've used them let me know in the comments!)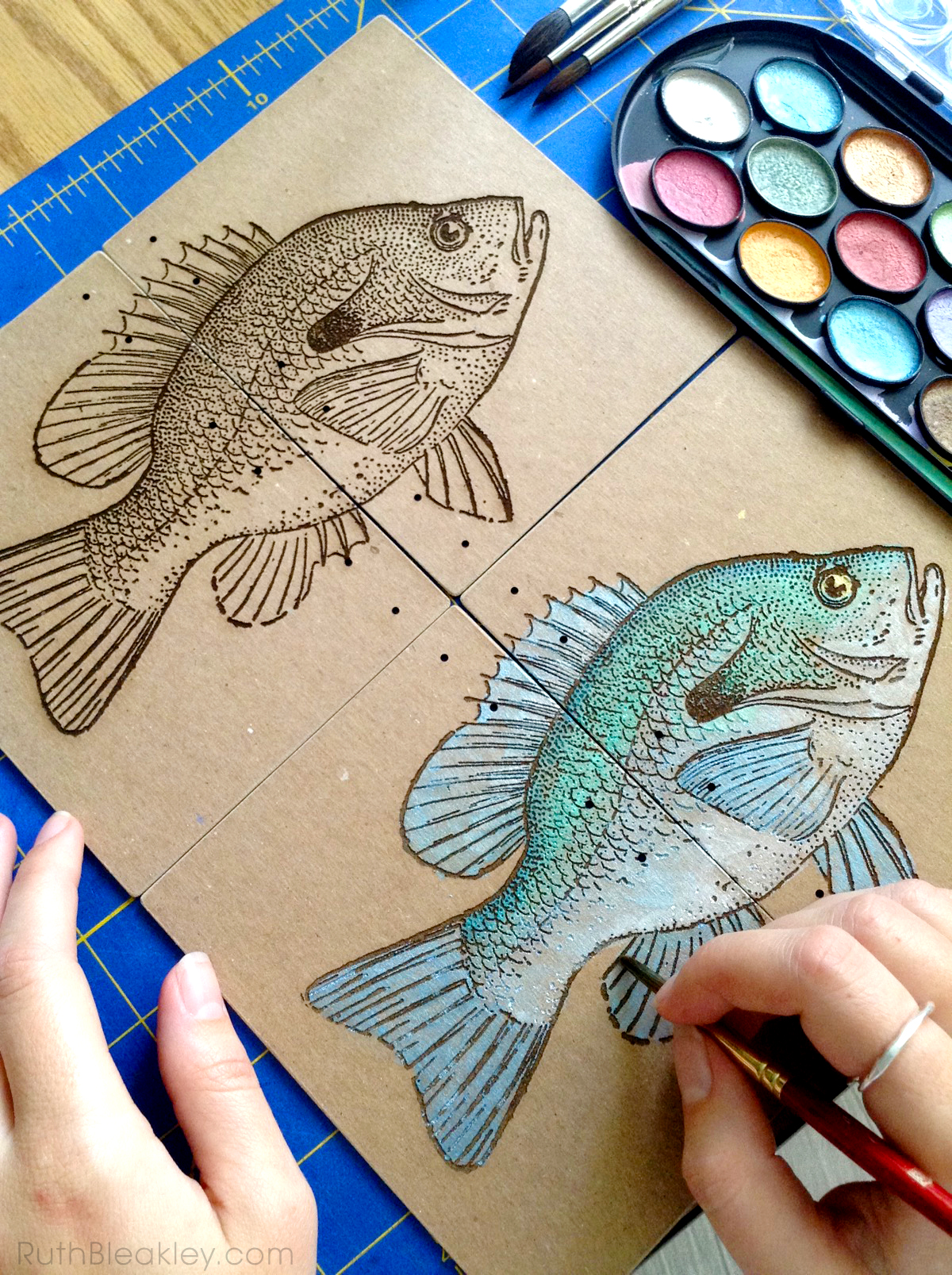 Ta da! One of the secrets to watercolor paint is layering – they are semi translucent, so what you want to do is imagine the colors as transparency layers overlapping one another. Another secret is that to achieve the layered effect, it's best to let the first layer dry before adding the next layer! I did this painting in two layers to set down the base colors of white and light blue, and then the second layer was dark blue and green. The full painting took about 25 minutes? But I'm not sure because I didn't time it, and I was lost in the flow!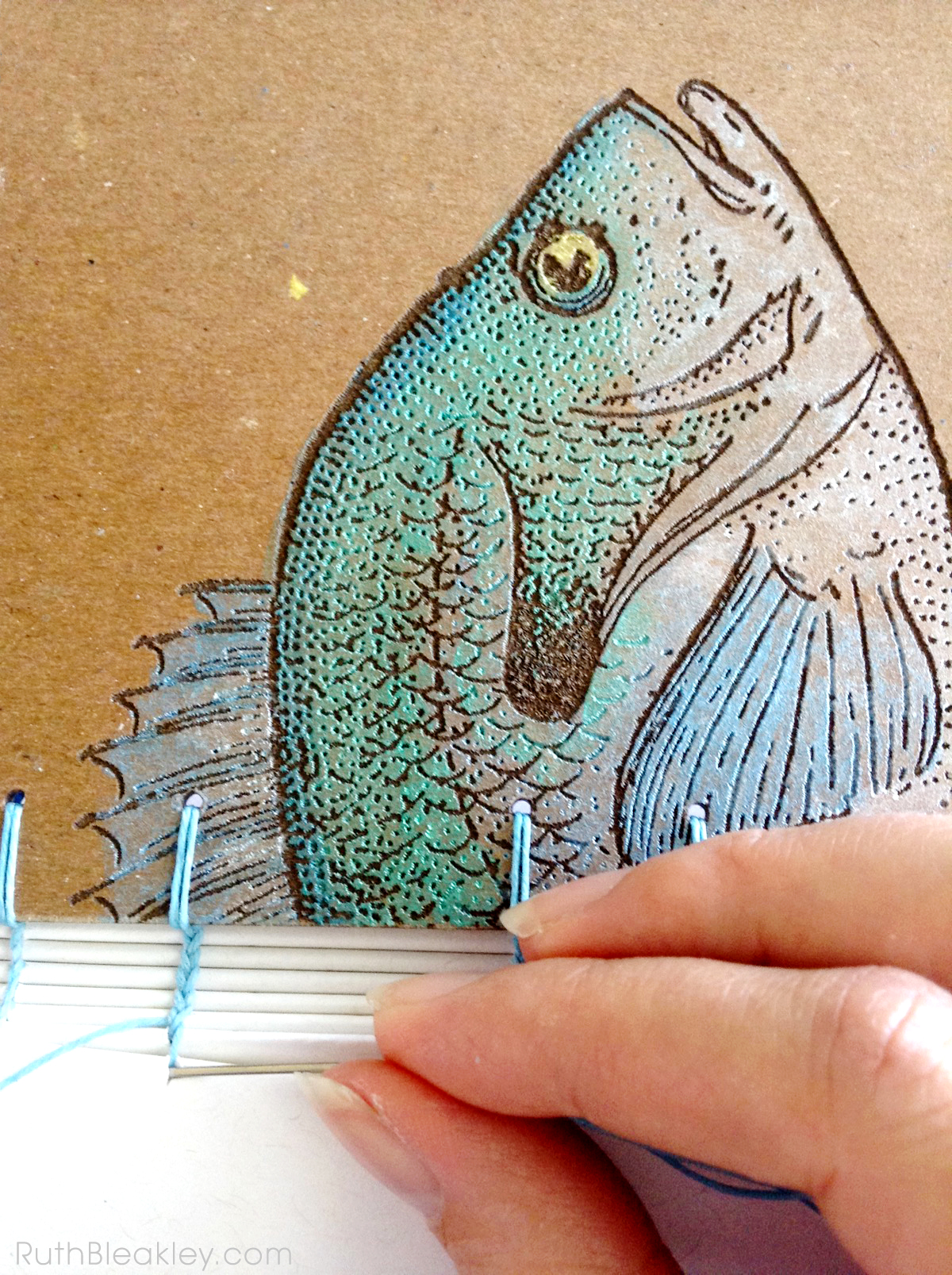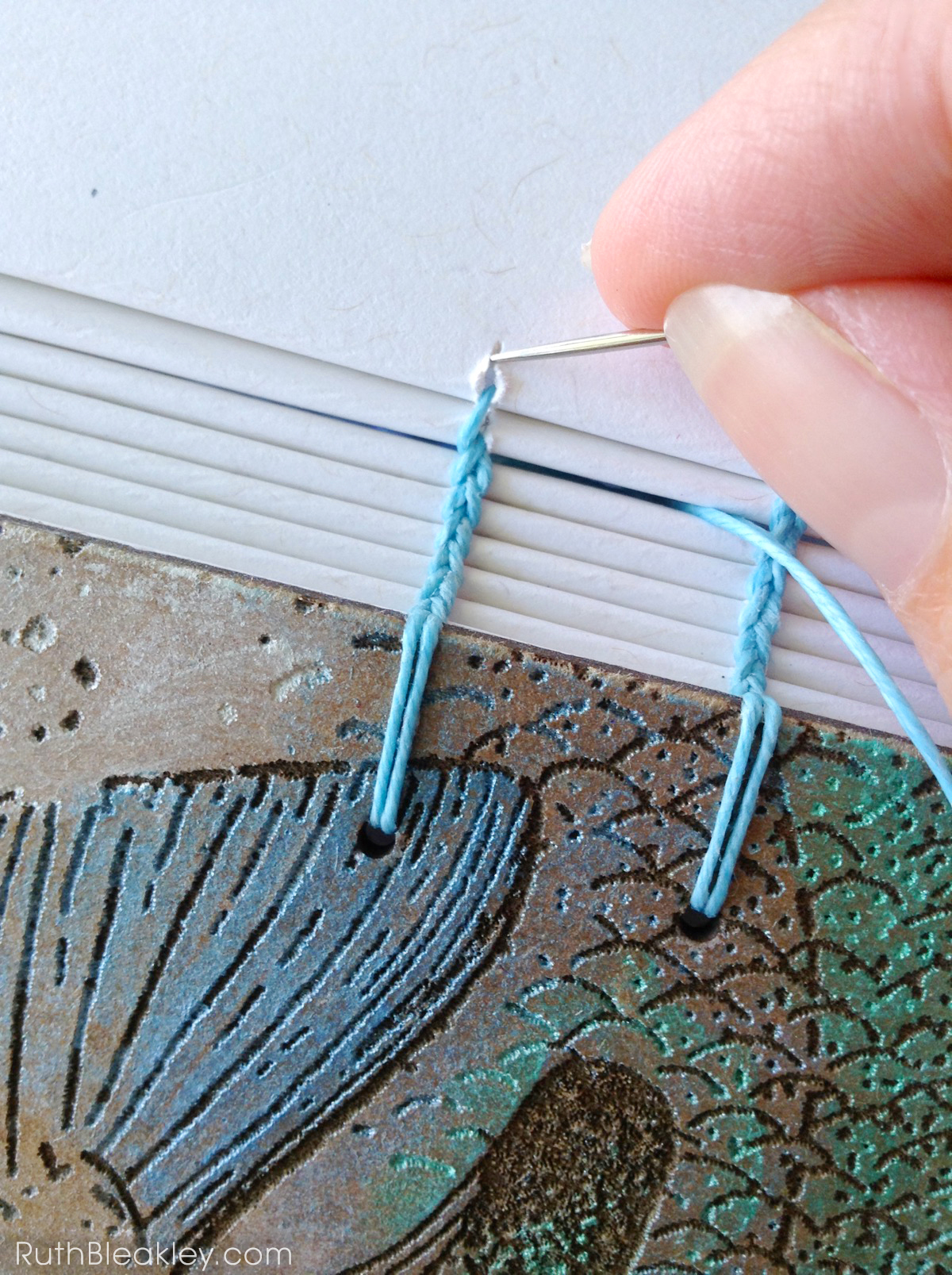 Next step was sealing (not shown) to protect the recycled bookboard from fingerprints and to keep the sooty engraving from smudging. I used a spray satin varnish.
Then on to sewing! here I used coptic stitch, which allows the journal to lie flat when it's opened. I do mine using a single needle, learned from Keith Smith's Books Without Paste or Glue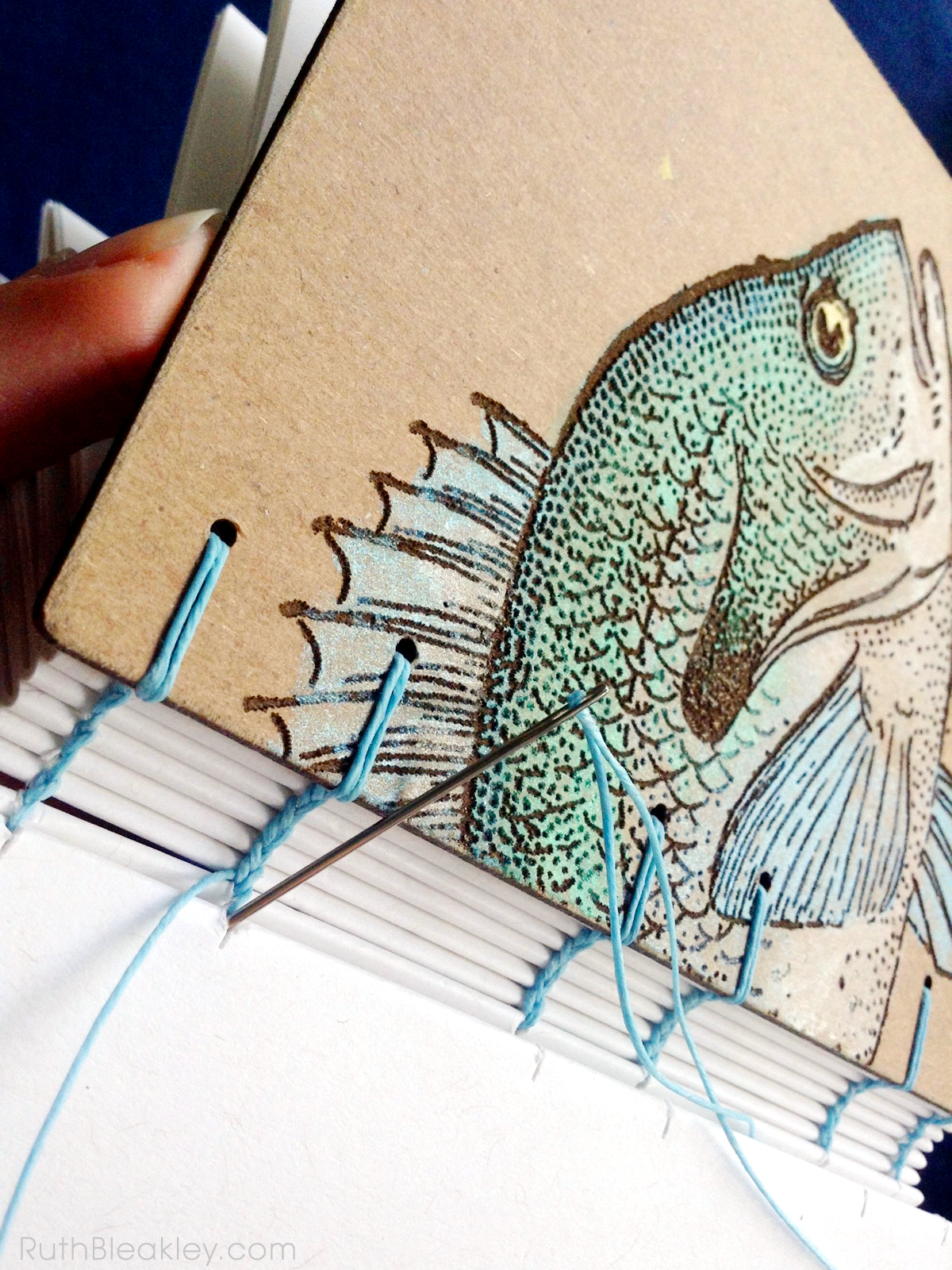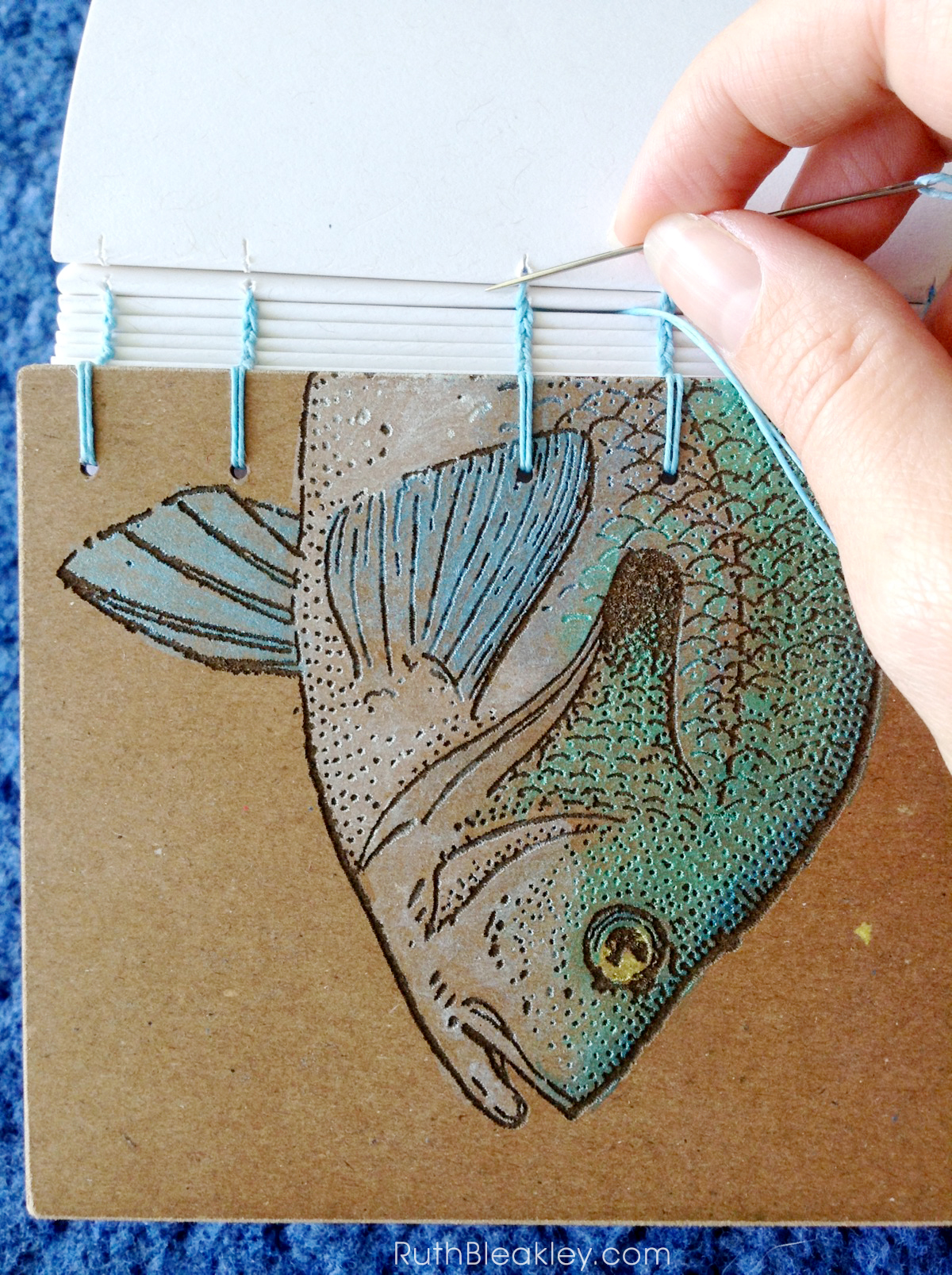 And finally, the finished journal! I made two of these, so perhaps you can still find one for sale here: Hand painted Fish Journal
Why a fish? I've always loved fish – I had aquariums at different parts of my life (ask my mom about the infamous "Mr. Crayfish") – and right now I have a 40 gallon outdoor pond that I keep naturally balanced without filters or chemical additives using live plants, snails and fish, along with numerous other tiny organisms. The fish keep any mosquito larvae in check, as well as provide fertilizer for the plants, and the abundant plant life as well as the wide surface area ensure that the fish get enough oxygen, and the snails clean up any dead plants – it's amazing! A beautiful, exotic waterlily caps the whole thing off, and now that it's about 4 years old, blooms almost continuously.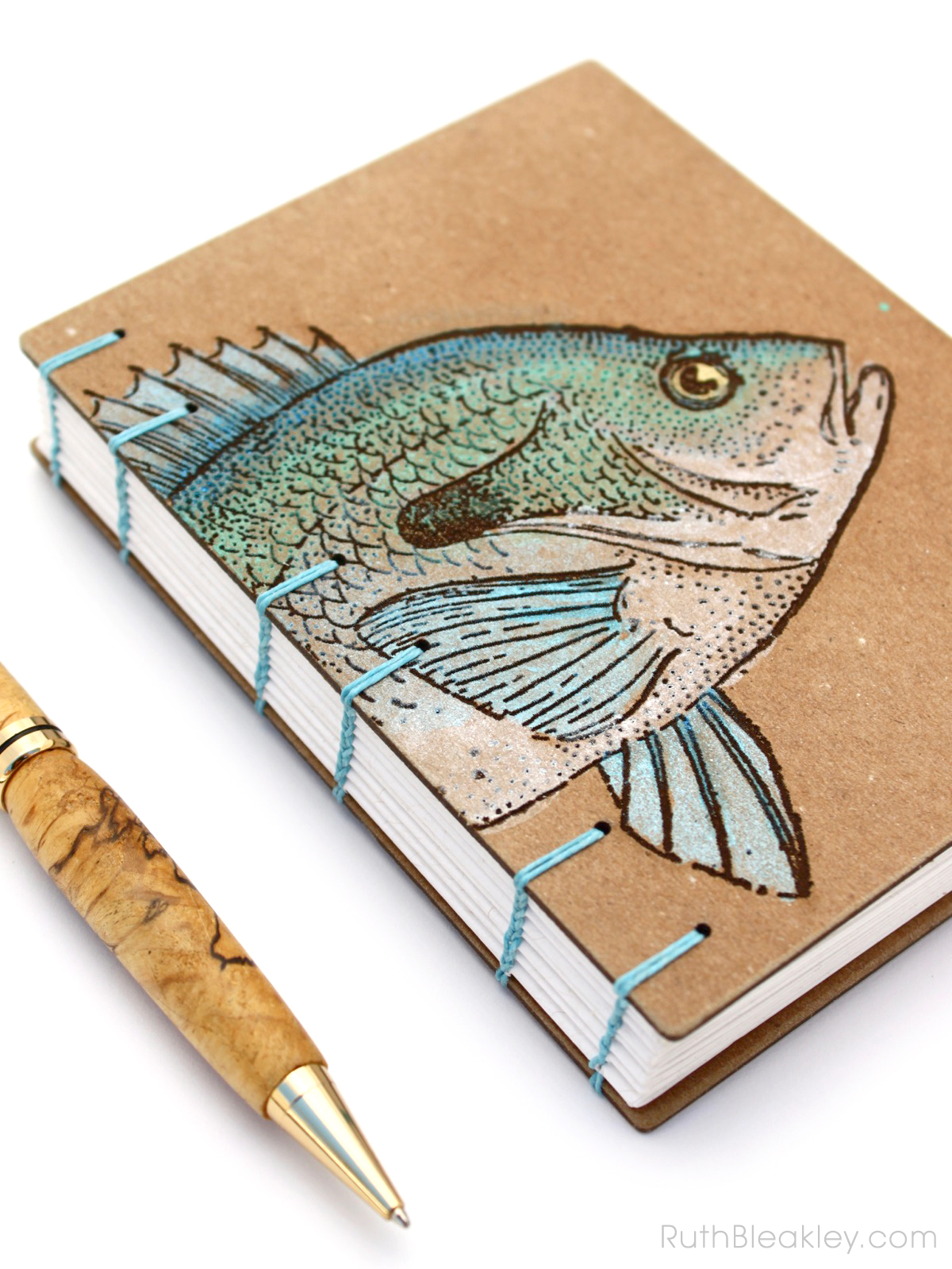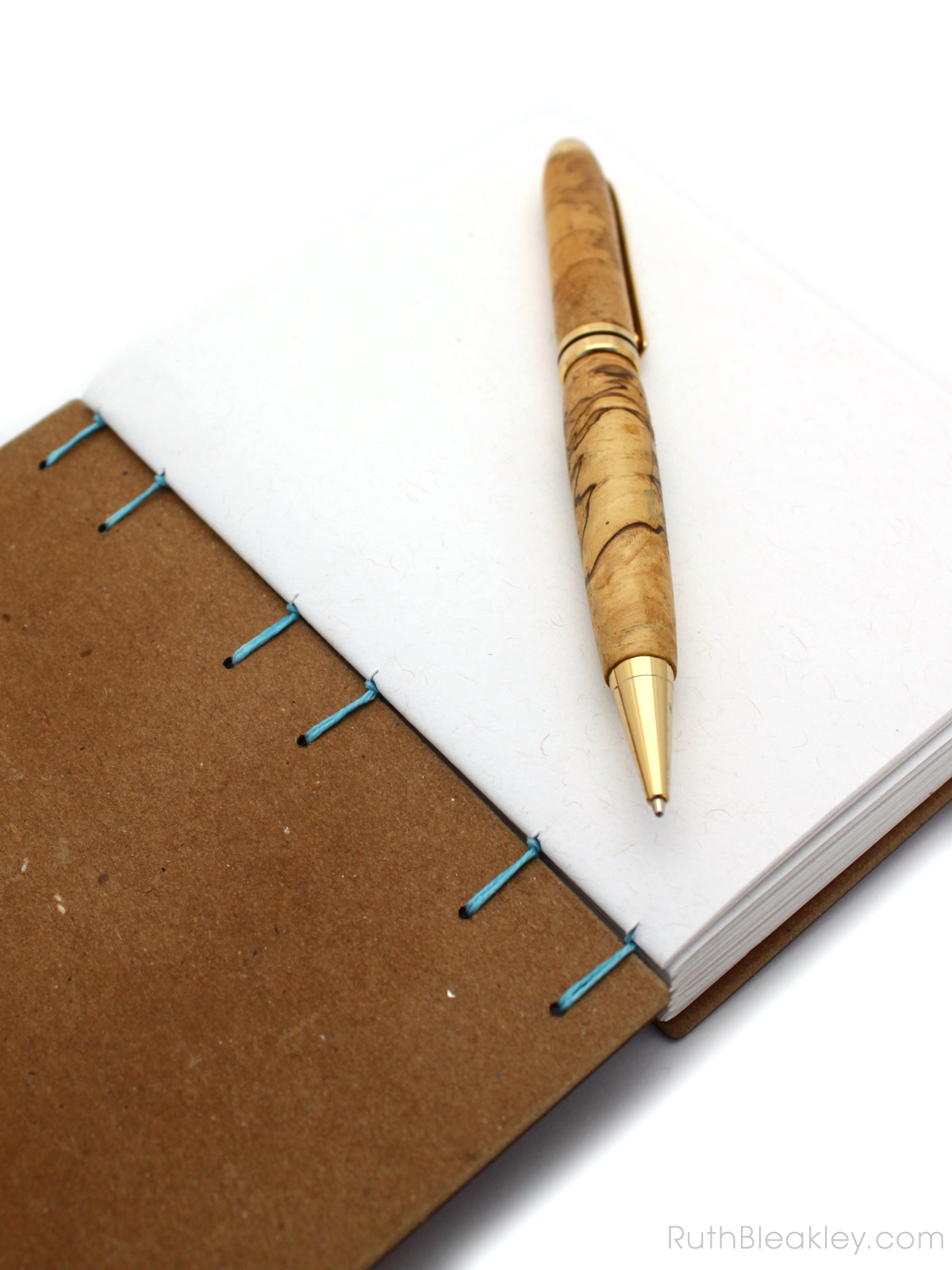 The finished journal lays open flat for easy writing and contains 160 pages of 100% recycled filler paper from a family-owned paper mill in Michigan. The cover boards are also recycled (each board has it's own special character – you can see the speckles of the different types of paper that's included). The book is sewn with waxed Irish linen thread, and no glue is used anywhere in the book, it's completely sewn together. This journal would be a great gift for an aquarium enthusiast or a marine biologist to use as a field journal.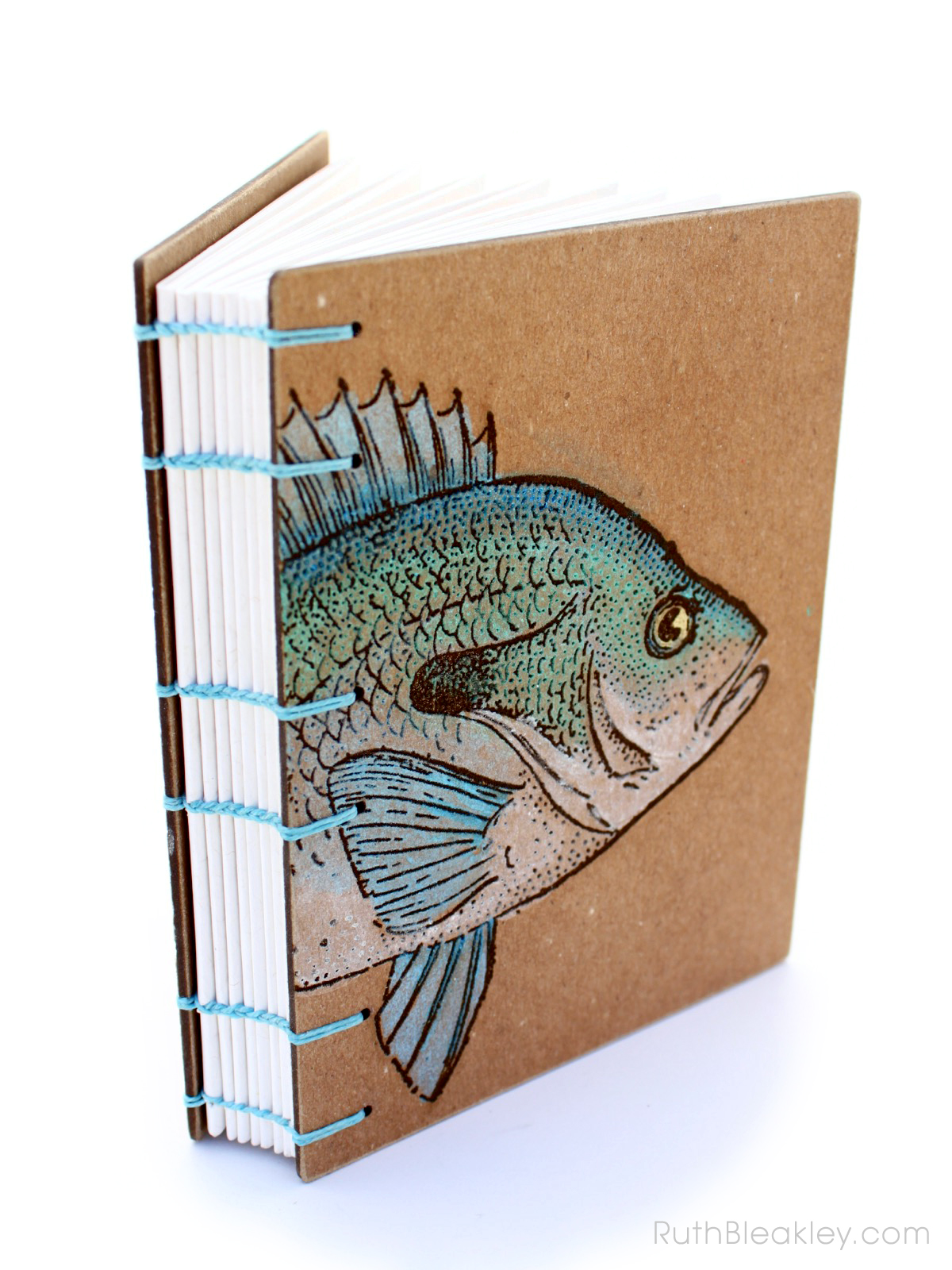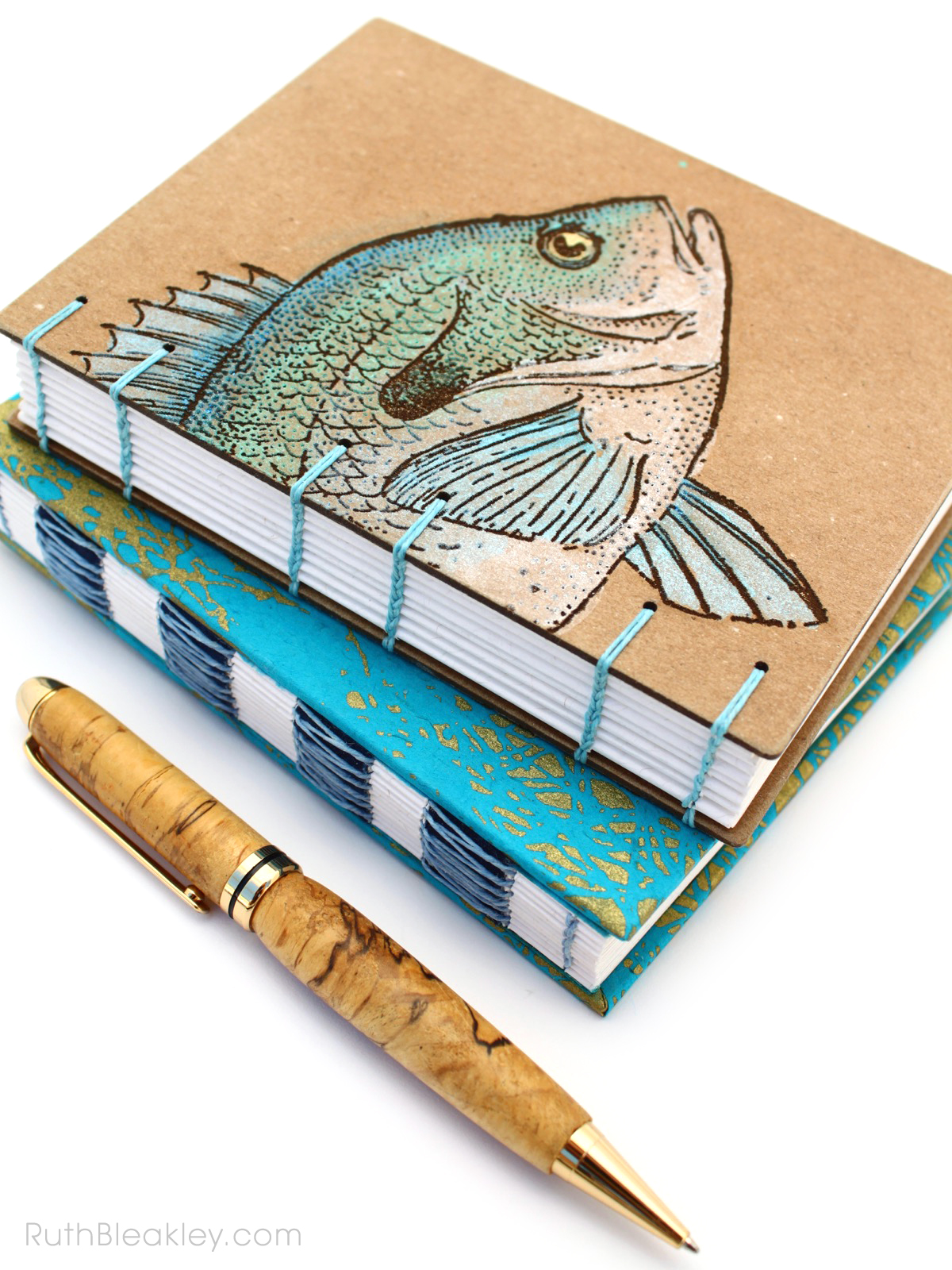 On the same day I was also taking photos of my aqua and gold branches french link stitch journal! I loved the colros next to one another. That aqua and gold journal is SO hard to photograph though! The golden paint just comes out looking strangely…green? It's very reflective though. If you'd like to learn more about french link binding, I'm sure I'll make a post about this one, but you can also check out my Indigo and Gold Branches French Link Journal blog post.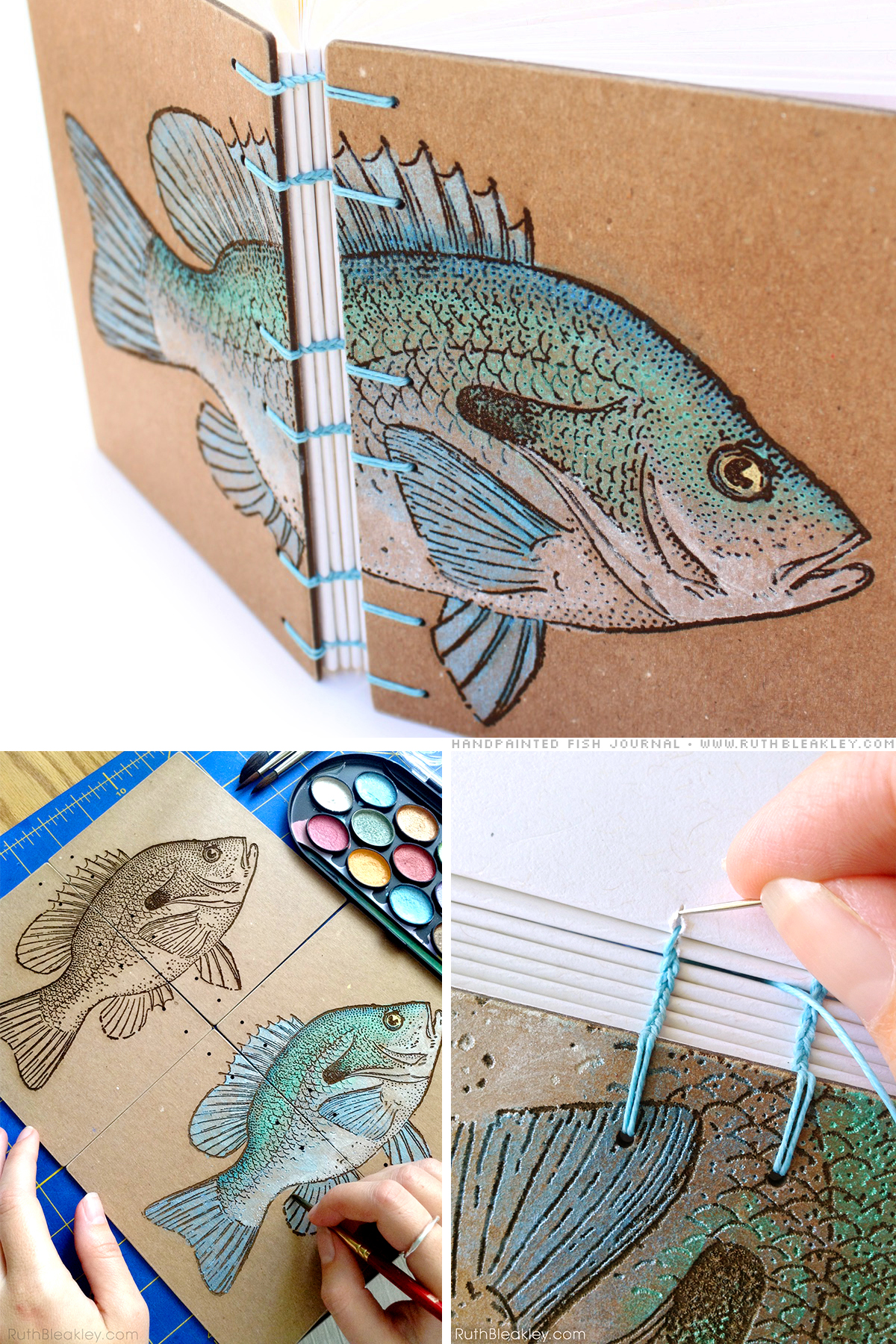 Thank you so much for reading my blog – if you enjoy bookbinding, check out my Pinterest board Handmade Books + Journals (which as of this writing has 10,219 followers!) and don't forget to sign up for my newsletter:

this post contains affiliate links