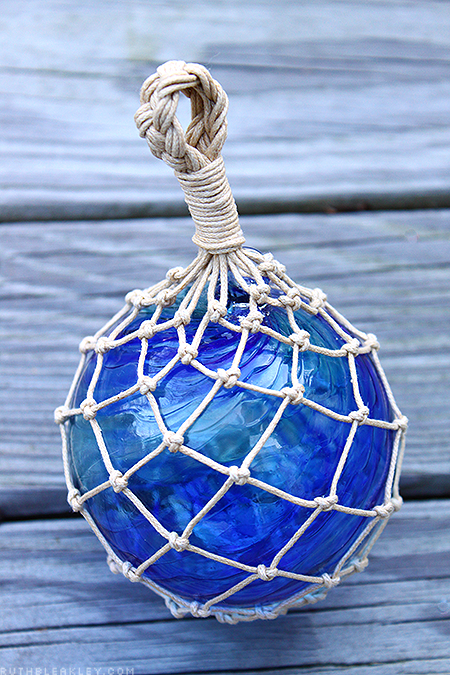 //EDIT FROM THE FUTURE: Hi everyone! – my main thing is bookbinding! This is the only glass fishing float net I ever tied in my entire life, and I'm not interested in doing more, and I've given this one to my mother-in-law, so you can't buy it – however, if you want to do a simple DIY, buy yourself some decorative fishing net, cut a piece big enough to fit your glass ball in, and then lash the end with twine!//
I'm back from my 2 week Florida vacation feeing revitalized – and sorely missing the sunshine! Over the past few days I've been tackling my catastrophe of a studio, cleaning it up in 20 minute chunks (even setting my chicken-shaped egg timer to keep me going). When things get busy for me, you can tell by how much stuff is piled in my studio, but I plan to wipe the slate clean, put away all guilt-inducing half-finished projects and relax for a while.
I still like to keep my hands busy, so I tried something COMPLETELY new today – hand tying a net!
Yep, my compulsive craftiness knows no bounds.
Glass fishing floats were used for many years to hold up fisherman's nets, before cheaper plastic and styrofoam floats became the norm. They were especially common in Japan, and folks in the Pacific Northwest of the US still find floats washed up on shore occasionally – check out this you tube video where a Hawaiian man shows us his Japanese glass float collection.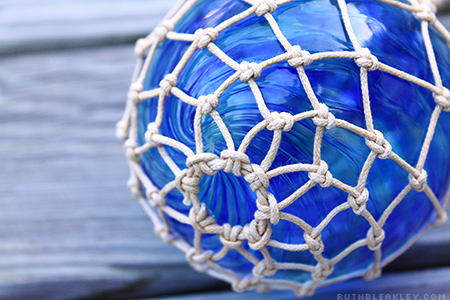 It took me about two hours, and I learned a new knot that I am calling the "pretzel knot" – using waxed cotton thread I worked off of two tutorials – unfortunately I wasn't able to find any  photo tutorials, so I worked off of an eHow tutorial and this tutorial that has a picture of the lark's head knot and pretzel knot up close. I made up my own ending, tying all the cords into a four strand braid (so cool!) and then lashing down the ends with some extra cord. The cord was waxed cotton cord that I stole from my husband, who also enjoys doing crazy knot work.
My pal Bryan Randa from the local craft show circuit gave me this ball. He makes a ton of awesome stuff
P.S. no, I don't want to do any more of these, one was fine, please don't email me asking me to hand-tie your glass ball into a net 🙂