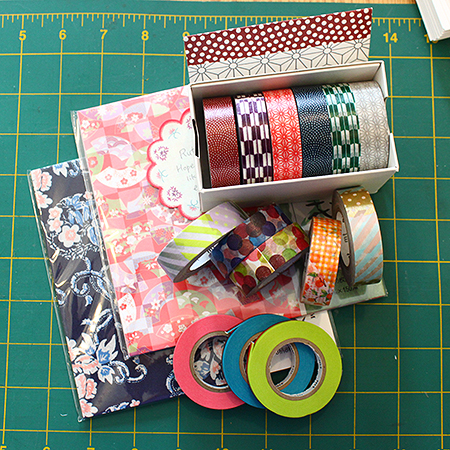 Oh boy oh boy! If you somehow haven't heard of the amazing craft/office supply product called washi tape then you are MISSING OUT big time. I'd drooled over it online for a while, but couldn't QUITE get myself to pay $4-$5 a (teeny) roll – so I emailed my friend Yori who lives in Tokyo with the innocent question "have you seen washi tape for sale near you? is it cheaper in Japan, and could I send you some money to buy some if so?" she replied by mailing me (express mail no less) a HUGE washi tape care package! OH my heart nearly exploded with joy.
For a trade, I'm sending her some artwork and some delightful burt's bees products. A great trade!
Here's some totally drool worthy washi tape photos for you – don't eat the computer! Also, wouldn't these be great for PINTEREST??
Pt 2 of the story, in which the heroine takes on her out-of-control glue shelf
So, funny story – I open the package, when I'm done picking my jaw up off the floor, I looked around on my art table for a place to put them…there was noooo space! You know those immaculate studios you see online where nothing is out on the table and all the shelves are perfectly organized? That's NOT what mine looks like!!!
I decided I really needed to clean up my "adhesive shelf" before I lovingly placed my new washi tape collection on it – so I give you the before and after photos – voila!
P.S. don't you love my tabby cat tape dispenser?? I got it at the stationery shop I used to work at, but I also just found one on ebay.