This summer I got to fulfill a dream of mine for many years, to attend the Penland School of Crafts in the mountains of North Carolina near Asheville. Ever since reading about it in the Penland Book of Handmade Books, I've wanted to go take a class. Well, after getting back from a week-long course on Onionskin Binding taught by Benjamin Elbel, all I can think is "why didn't I go sooner?!"
I am hoping that I'll get to go back at least once a year if time and finances allow. They do have a work study program where you get free room and board and 1/2 price tuition in exchange for working 10-20 hrs during the week, but as it was my first time attending I thought I would check it out first before accidentally signing up for ditch-digging duty (don't worry, it's mostly dishwashing and cleaning).
I have SO MANY PICTURES (thanks for the birthday iPod, Mom & Husband!) so I'll try to group them together in posts by type – today is showing the modeling and production of my first onionskin album and I'll probably also post about Asheville in general because it was an absolutely charming city that I'd love to visit again.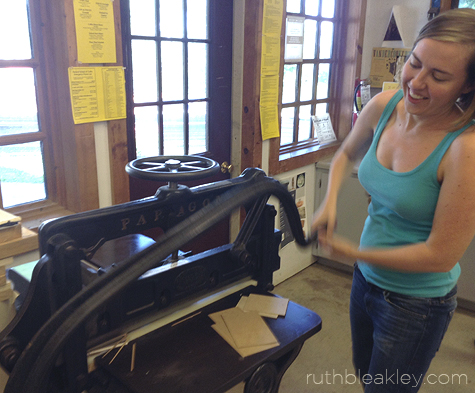 More pictures to come, in the meantime, if you want to check out the book that started it all, you can purchase The Penland Book of Handmade Books on Amazon – over 400 photographs of gorgeous journals, handmade books and artist's books (one of a kind books with content) to inspire you!
Penland school of crafts offers 1 week courses, 2 week courses, 8 week concentrations and a 3 year core program in way more than bookbinding – you can also take courses in jewelry making, wood working, glass blowing, ceramics, textile dying, weaving, paper making, printmaking – and more! The list goes on, depending on what's currently being offered – I loved my time there in the mountains!
This post contains affiliate links