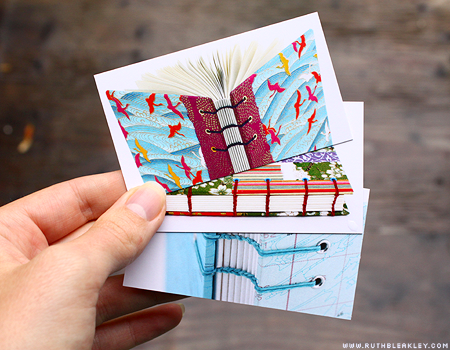 Yay! I am so excited about my beautiful new bookbinding business cards! (try saying that five times fast). I LOVE double sided business cards, because you can put an eye-catching graphic on one side and all of your details on the other side. Business cards are the first impression people have of your business, so you want them to be like your work – high quality. Would you trust a hairdresser with an awful femme-mullet?
Crafters and Artists, take note! The best way to describe to people what you make is to SHOW them. It could be the difference between a gallery owner you meet at a party saying "oh – what do you mean?" when you say you make books by hand, and saying "oh wow! You stitched this by hand?" when you show them your card. (not to mention "what a beautiful card!" and "I would love to carry your entire inventory in my shop!" haha )
These cards are nice, super-thick 16pt business cards (the same thickness as Moo Cards) and they're matte finish, which I think in many cases looks a little more polished than glossy UV.
So, if you're tired of your free, flimsy, boring-template business cards, you might want to consider some double sided photo cards – and oh, did I mention that I make them? for sale? 😉 Sneaky, aren't I! Visit my Concertina Press etsy shop to get your own double sided photo business cards.