My advanced bookbinding class last spring took on the big project of coptic stitch books and so to reward them for all their hard work and patience as I worked out the kinks of teaching a group of people a very tricky stitch, I made everyone in the class these fun little accordion books! Here's a step by step photo tutorial. Details on each step after the photos.
You're welcome to re-post this on your blog if you kindly link back. Click the Photos for a larger size.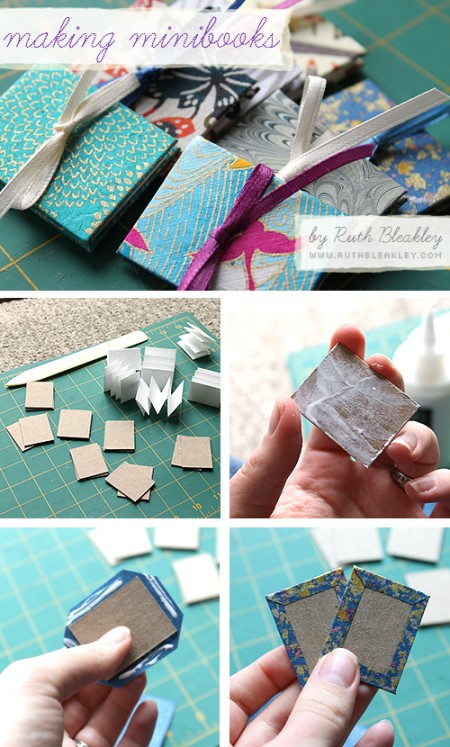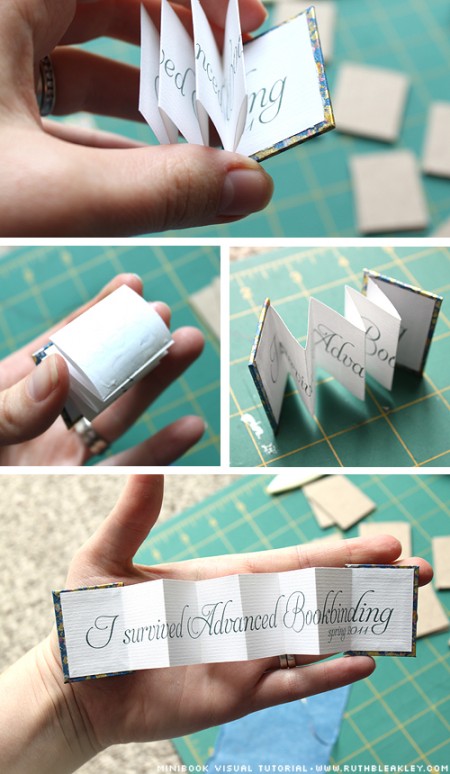 Materials:
• Scraps of thin decorative paper for covers
• filler paper (this can be regular computer paper – I used antique laid resume paper)
• thin cardboard for the covers (the kind on the back of a sketchpad will work fine)
• glue (I use PVA but any white glue would work fine)
• 1/8″ thin ribbon (you can also make it without)
Tools:
• Heavy duty mat knife, or scissors
• metal ruler
• cutting mat (or cardboard, to protect your table)
• Foam brush (for glue)
• bone folder (optional, for folding paper)
1. Cut cardboard covers slightly larger than the size of your accordion, folded up. I made these strips of paper as wide as printer paper (8.5″) and about 2″ tall, then made the cardboard covers overhang by about 1/8″. I folded the paper first, then measured the folded size to determine the cover. I cut the cardboard with a utility knife and metal ruler.
2. Cut decorative cover paper for the cardboard so that it overhangs all sides by 1/8″ and trim off the corners so they're mitered (at a 45 degree angle) that way there's less bulk in the corners when you glue them. Apply glue and fold opposite sides together. So long sides first, then top and bottom.
3. Gluing the inside is the trickiest – fold up your accordion inside, and put glue on the back of the last sheet – the side that will come in contact with the back cover of your book, and carefully center it on the back cover. For the front cover, put glue on the sheet facing you and then lay the cover on top like you're putting together a sandwich, keeping the accordion folded.
4. Viola! If you like, cut a short piece of ribbon and glue it to the back of the book for a tie. Make sure there's no glue sticking the pages of your book together before you tie it and leave it to dry.
*pssst* I 'm also on Pinterest - check out my handmade books board.