Doesn't that stack of folded signatures in the second photo look grand? I used acid-free card stock left over from a big project – I really over stocked on it a couple years ago when I had a class on concertina bindings. Unfortunately I discovered that the card stock was also too heavy for the type of binding we were doing – but not before ordering 200 sheets of it! Yikes – well, I never can resist a bulk discount…
So I trimmed the 12″x12″ sheets down to 9″x12″, which I then stacked in signatures of three sheets each. Normally I would do four or five sheets of paper per signature, but with thicker paper, you don't want it to be too bulky.I folded them in half – what you see in photo 2 are four unsewn text blocks.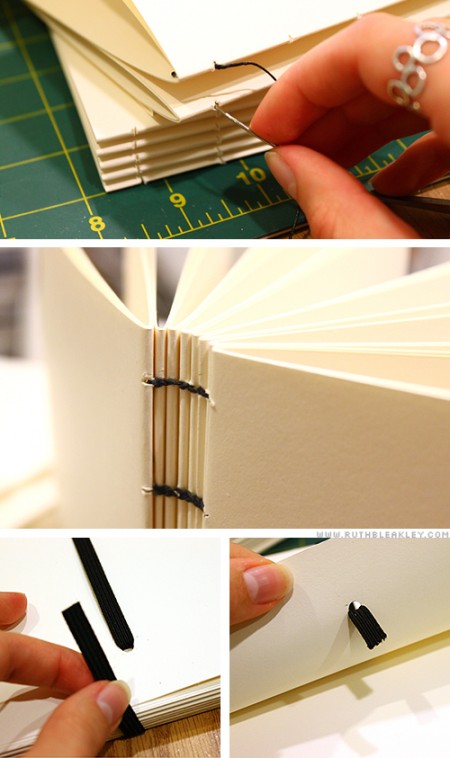 The top photo in this second step is after I've pierced (actually I've sawn them with an exacto razor saw) sewing stations, and I'm beginning the single needle coptic stitch with a straight needle. Sea Lemon has an excellent coptic stitch tutorial video if you're curious about that. (Cool bubble ring handmade by Colleen Baran – a wonderful Canadian metalsmith)
I decided the paper was so thick that I wanted to try binding a book without covers. What I was picturing was a sketchbook that an artist could decorate on all sides. I wanted a way to close it though, because I know from carrying my own sketchbook that sometimes when you toss it back in your bag, the pages can become bent or wrinkled, which is no good! Plus if you wanted to add things to the book scrapbook style, it would be good to have something that would hold the book together.
Here's how you set elastic with an eyelet – first you need an eyelet setting tool (yep, sorry, no real trick here – try a Cropadile, it will totally revolutionize eyelet setting for you). Then, punch the 3/8″ hole where you'd like it – for me it was on the back cover of the book. Then cut out a length of 1/4″ inch elastic – I got mine in bulk from a spool at the local sewing store. Thread both ends into the hole, flatten them where they come out on the other side (make sure to leave extra room so they don't slip out when you're pressing the eyelet). Thread the eyelet in (again, I used the bigger ones, not the mini 1/8″ ones). Flatten the eyelet with the eyelet setter, and viola! You can trim the ends a bit if you like.