I just unearthed some photos of a really neat project I completed this summer. It's a giant birthday card in the style of an award portfolio – so it has buckram-covered book board outside and inside large sheets of paper for lots of people to sign. It commemorated a 90th birthday and several of the events that featured prominently in this person's life, specifically lifelong research of horseshoe crabs (I live in a very marine-science oriented community) and also fond memories of riding the CYCLONE rollercoaster at Coney Island in the 20s.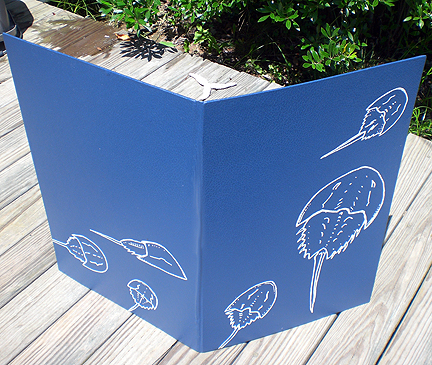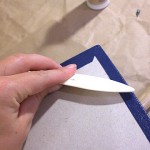 using a bonefolder
look at all of those crabs!
those crabs are too TALL to ride
I drew the crabs on the outside with paint pen and sealed it with a matte sealer, for protection – inside I drew with micron pen. The card was quite large – 12×18″. Plenty of room for lots of good wishes! I included a teal and a blue gel pen to sign it with.