Pistoles Press is one of my favorite shops on Etsy, and Lana creates beautiful  hand-pulled woodblock prints with an asian/art nouveau flair. I have several sets of her prints hanging in her house –
Three lovely tree prints in black and white by Lambert Press
From her blog,
"Lana is a member of the McGuffey Art Center in Charlottesville, VA and recieved a BFA with a concentration in Printmaking from the Corcoran College of Art and Design. She has been to Niagara Falls, West Virginia, Washington DC, and other places in search of letterpress equipment. She has a Chandler and Price Pilot and an old old Vandercook along with a collection of Baren's and Bake's for Moku Hanga…"
The indigo ink in this woodcut is even more striking in person.
Even more exciting is Lana's new shop, Pistoles Press 2 where she sells hand-carved stamps. I bought 4 and have been busy stamping away – I'll have to post some of my projects soon.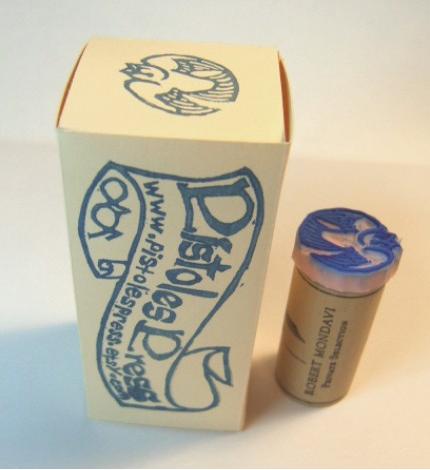 Here's one of four stamps I purchased – great packaging and clever use of a cork as a stamp handle!